Mikey Howard is living his childhood dream. He's sharing the stage with his favorite artists and musical heroes while his band sits atop the Billboard charts. Never mind these achievements, however, as the front man of 7eventh Time Down makes it very clear he's only playing the smallest of parts in all of this.
If you've tuned in to Christian radio for any amount of time in recent weeks, you've undoubtedly heard 7eventh Time Down's new chart-topping single "God Is On The Move" (buy). It's the latest and greatest measure of success for a small town band on the rise for some time. With two previous albums making waves, especially 2013's Just Say Jesus (buy),and tour dates with Newsboys, for King & Country, Family Force 5 and Matthew West, it's not surprising that 7TD has kicked things into a higher gear.
Yet if you ask Howard about it, he's quick to correct you: God is the only one on the move here, not the band. "If this was just me, I would have never gotten to this point," says Howard. "I'd have screwed it up in some way. I do appreciate all of this, but in the end, none of this means anything. This interview or the charts—none of it means anything. I just want to be able to look the Lord in the eye and hear Him say, 'Good job.' That's all I can hope for.
"I think central to keeping this whole thing in perspective is keeping this very small thing in perspective: It's got nothing to do with me," he proclaims. "I just sing songs with the voice that the Lord has given me. My role in this is so small. Some people say it sounds harsh or that I should give myself some credit, but I don't need to. That's a dangerous and slippery slope that I don't want to go down."
Maintaining such a humble spirit and God-ward focus can prove difficult when you're the one in the spotlight night after night. The members of 7eventh Time Down have become road warriors in recent years, leaving families for weeks on end to play dates coast to coast. It's a recipe that keeps even the best of men from being grounded, which is why Howard and the rest of the band—guitarist Eric Vanzant, bassist Cliff Williams and drummer Austin Miller—stay focused on the bigger picture as much as possible.
"It can be hard. We play 150 shows a year, and every single night you have everyone in the whole room coming up afterward wanting your autograph or telling you that your songs have changed their lives," Howard explains. "The thing I keep in the forefront of my mind is that there's never, ever going to be power in this music or in my voice to literally change someone's life.
"When I say change, I mean the type of change that Jesus does. My voice won't bring someone to life. It just won't work. I think my responsibility and the only thing I can do with these simple songs I write is to point people to the cross and Jesus. He'll take care of the fixing and the changing and the transforming."
The aforementioned crammed concert calendar is a dream come true for Howard, a man whose dreams to make a living at Christian music can be traced back to a feeling of being called at the tender age of thirteen. Howard's youth pastor subscribed to Interlinc, a service that delivered a new box of Christian music every month to youth groups around the country. This ongoing contemporary Christian music education brought a deeper spiritual connection for Howard that eventually led to him wanting to participate himself.
"Whether at a concert, listening to the radio, or those Interlinc CD's, I remember the Lord making me more aware of His presence in my life through those songs. I remember feeling closer to Him because of Christian music. I made a choice at that age that the Lord was calling me to share this experience that I had through Christian music with everyone I came in contact with in hopes to further the kingdom.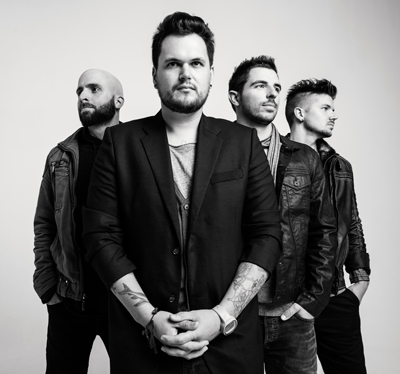 "In the South and the way I was raised by my mom and dad, if you say you're going to make a commitment, then you better do it. I had to follow through. Now having this 'success,' I look back and think, 'Maybe I wasn't crazy like everyone thought when I left college to start a band? Maybe I wasn't crazy when I told my friends that God wanted me to be in a band full-time, and to travel to tell people about Him?' Now it feels like I did hear a voice. I did feel a tug on my heart."
Being a lifelong fan of Christian music means that many of Howard's current experiences as a performing artist are surreal ones. When you're standing on stage next to the artist who sang on the CD you grew up with, according to Howard, it produces a feeling that can be difficult to get over.
"The craziest thing happened just after we'd had my second daughter," he explains. "About five days after she was born, we were out with the Newsboys again at a show 40-minutes or-so from my house. I find myself standing on stage hugging Michael Tait, rapping the 'Jesus Freak' verse that Toby [McKeehan] did. I probably butchered it, but I was a total kid in that moment. No one was going to stop me. All the times I sang along in the mirror with a hairbrush just came flooding back. Mike asked me if I wanted to practice. I said, 'No, I don't need to practice. I've been doing this in the mirror since I was thirteen. It's all good. Let's go.'"
What has made the band's success even more impressive is their small-town beginning. Howard says that he and drummer Austin Miller formed their first band at the ages of twelve and eleven-years old, respectively, in their home of Mt. Vernon, Kentucky. With a graduating class of approximately 150 people, Howard says it's uncommon for anyone to make a living as an artist, let alone to have someone hit the top of the Billboard charts.
"Growing up in Mt. Vernon is interesting, because the entire county probably only had around 14,000 people when I was a kid. We have a McDonalds and a Rite-Aid. We just got a new stoplight, so I think that makes a total of four?
"Everybody's cheering for us, which is really nice. It's fun to represent your hometown in a way that impacts church culture and hearts of people. It's cool that Mt. Vernon gets to play a small part in that. I'm also playing only a small part in this. I'm just the singer. We have such a great team of people who make all of this stuff happen—flights, shows, getting around. I just do the singing, so my own part is small."
Even the story behind the hit song "God Is On The Move" (buy) hints at the same smallness that comes up again and again when talking with Howard. The song was penned shortly after the band returned from a mission trip to the Dominican Republic. Songwriting sessions gave way to the songs on the band's new album of the same name, and while it was clear they'd stumbled upon a decent melody, no one was aware then of the power of the track.
"Wen we first wrote it, we thought it was cool but we didn't think much else about it. We actually named the album something else at first," Howard says. "Then I went in to do vocals on the song and we got the first mix back, and I called up producer Ian Eskelin and said, 'Are you hearing what I'm hearing in this song?' He said, 'Dude, this is unreal.' It felt anointed. It felt different. It felt like God wanted to do something with this song, even though we didn't recognize it at first. We knew the Lord would do something with this through the hearts of people."
Howard says the power in the song is found in its two-fold purpose. It's a song that's both inspirational and challenging, and it moves the listener beyond the scope of his or her own perspective.
"The song is a challenge for people that asks, 'Are you going to stand up and be the person God wants you to be in the world?' Yet it's also a reminder in case you have forgotten that He is working all around you. We hoped that people would listen to the song and become more aware of the presence of God all around them. We want people to recognize that, because the Lord is working all around us every single day. We often miss it."
Howard says the band themselves didn't see the path ahead—from the success of their hit single to the spiritual impact behind their new album. It's all part of a greater plan that continues to remind 7eventh Time Down of their own smallness—and God's greatness—in the grand scheme.
"At first we didn't see it, but when God reveals something to you, it knocks you off of your feet," says Howard. "It all came together and we just knew. This was no doubt the path and plans that God had for us, for our ministry and for this record. He wanted to tell people that He was moving and working in the world despite all of the stuff that's going on. We had no idea there would be shootings or so many crazy things happening in the world. Now I'm hoping people hear this song in [Orlando] and other places that might be in a dark place, and I hope they say, 'Wow, God is moving in all of this.' I don't have answers for all of this stuff, but I trust that this song is meant for this time and this culture and let it be.