Skillet
Dominion
(Atlantic)
Release date: January 14, 2022
Although Skillet leader John Cooper describes the group's Dominion album as "the celebration of freedom," this act has always used very loud and (dare we say it?) angry means of celebratory expression. Therefore, a Skillet 'celebration' won't sound like, say, the soundtrack to a Disneyland parade. With that said, though, this latest album is packed with plenty of the noisy rock & roll we've come to associate with Skillet.
One track titled "Valley of Death" creates one of the strangest ever paraphrases of the 23rd Psalm. Granted, it's not as aggressive as many other Skillet songs. Nevertheless, it won't make you picture David plucking gently on his harp out in a field. Perhaps, "Shout Your Freedom" best represents Cooper's description of the album's overall intended mood. It features a melodic, sing-able chorus, and one can well imagine audiences singing along with it in concert. The album's title track, "Dominion," features Cooper sparing (vocally) with drummer Jen Ledger. It's a song of defiance. Lyrically, it offers a reminder that–despite the way the world might sometimes appear–God still has dominion over it.
Skillet likes to surround itself with pounding percussion and sledgehammering guitars. However, the act is just as effective when stripping away all of its sonically industrial elements, which happens during "Forever or the End." It's a kind of power ballad duet between John and Korey Cooper. Similarly, the stripped-down electric guitar rock of "Ignite," proves this group also thrives with more basic rock band elements.
Dominion may not reinvent Skillet as we know it, but for those that might need someone to bring the noise (the high volume noise, that is) in Jesus' name, Skillet remains at the top of your shortlist.
—Dan MacIntosh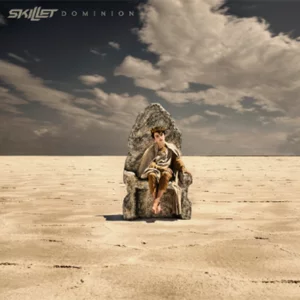 Dominion Track List:
1-Surviving The Game
2-Standing in the Storm
3-Dominion
4-Valley of Death
5-Beyond Incredible
6-Destiny
7-Refuge
8-Shout Your Freedom
9-Destroyer
10-Forever or the End
11-Ignite
12-White Horse