JON FOREMAN — Fall & Winter (Credential)
File Under: Acoustic / Rating: 4 Stars (Great)
It takes about three full spins to rinse the Switchfoot expectations from your mind. After all, Jon Foreman isn't a solo artist, but the well-known figure of a prominent band—so no excuses are necessary if you take the requisite moments I did. But after the mental shift, you'll be glad you stuck around; Foreman's solo turns are absolutely brilliant.;
The first two of four planned seasonally-titled EPs, Fall and Winter, spin largely acoustic yarns of bedroom solitude. Yet, seasonal depression never sounded this good. Foreman now has permission to dive deep into the dark places that a radio rock band (and a Christian one at that!) won't allow, and he takes full advantage, exploring the melancholy side of his own life ("Lord, Save Me From Myself," "Learning How To Die") or those he sees ("Somebody's Baby").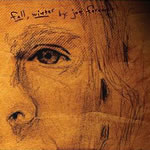 Musically, Foreman stretches his unplugged wings as wide as he can, from the guzheng—a Chinese zither of sorts—on "In Love" to the slow gospel march on "I Am Still Running." The straight-from-Scripture approach of "White As Snow" melds harmonics with popular Psalms. The haunting "My Love Goes Free" seems to utilize a piano that hasn't been kept properly. All in all, Foreman keeps a potentially sleepy EP from being just that.
But the primary beauty of these seasons is in the lyrical confessions found in a vulnerable front man allowing you into his heart. Foreman's delicate falsetto, especially on "My Love Goes Free," expresses pain in ways most artists don't even attempt to strive toward. Foreman is indeed the humble genius we believed he was, with Fall and Winter serving as some of the strongest evidence to date.
Review by: MATT CONNER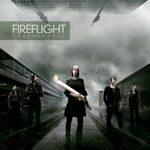 FIREFLIGHT — Unbreakable (Flicker)
File Under: Alt-Rock / Rating: 3½ Stars (Very Good)
COHESIVE ALBUM RINGS OF PROMISE
"Unbreakable" is not only the title track—aptly chosen by the producers of "Bionic Woman" to air on NBC—it is the ideal word to describe the latest effort from Fireflight. The album delivers a seamless mix of hard-hitting, rock rhythms, riffs and hooks, balanced with the pure vocals of front woman Dawn Richardson. The result is a driving collection of songs that unquestionably rings true to Fireflight's alt-rock style, but doesn't sacrifice powerful lyrics, strong messages and memorable delivery.
Picking up where the title track ends, "You Gave Me a Promise" immediately hooks listeners' attention with a catchy percussion scheme, which leads directly into lyrics that will most likely resonate with any audience. Moving on, the album is full of musical surprises—check out the string intro on track three—and poignant lyrics.
The one thing this album lacks is enough variation to make each track stand out on its own. The same heavy production and intense orchestration song after song tends to meld the tracks together into an almost indistinguishable whole. While this is great for a cohesive album, it might cause the listener to either lose interest or zone out along the way. This band is clearly blessed with incredible vocals, strong musicianship and intense production. It might do well to rely a little less on the latter to make the former shine.
Review by: CAROLINE LUSK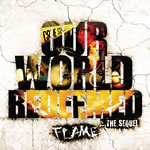 FLAME — Our World: Redeemed (Cross Movement)
File Under: Hip-Hop / 3 Stars (Good)
SEQUEL PROVES HOPEFUL
Less than a year after shedding light on the world's fall from grace with the apocalyptic Our World: Fallen, St. Louis rapper FLAME continues to spew fire with Our World: Redeemed, his fourth album on the Cross Movement label. But don't expect the two discs to be cut from the same mold.
As if doing a 180-degree turn, FLAME's Our World: Redeemed is almost the polar opposite to its predecessor, favoring slicker, more in-your-face sound beds over the generally brooding atmosphere of the prequel.
This change is needed. FLAME is no longer rapping about humanity's lost cause, but inspiring it to rise above its abject condition, to choose life in Christ above death in its own trespasses. For the emcee, bereavement is a cause for rejoicing ("Funeral to Birthday"), pain a precursor to abundance ("Hold On"), bloodshed the preamble to eternity ("On That Cross").
On occasion, FLAME tends to place style in front of substance ("Go Buck"), and the beats aren't always conducive to the hope-filled nature of the album's thesis. This gives the proceedings an air of self-seriousness that could curtail the celebratory character of the disc. In all, though, Our World: Redeemed ascribes all honor and glory to Jesus, so that, by album's end, there's no confusion as to whose name is the only one by which men and women can be saved.
Review by: ANDREE FARIAS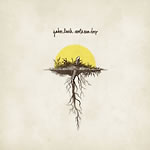 JADON LAVIK — Roots Run Deep (A Collection of Hymns) (BEC)
File Under: Acoustic/Pop/Worship / Rating: 4 Stars (Great)
"UNPLUGGED" WORSHIP
After releasing two critically-acclaimed albums—Moving on Faith and Life on the Inside—and touring alongside Rebecca St. James and BarlowGirl, Jadon Lavik decided to dig into some of his favorite hymns on Roots Run Deep. His love and appreciation for the standards of the faith shine through on the self-produced album.
Roots Run Deep features familiar classics such as "Come Thou Fount," "Turn Your Eyes Upon Jesus," "I Need Thee Every Hour" and "Take My Life," all supported by his sturdy yet seemingly effortless vocals.
What sets this album apart from the pack of recent hymns albums are the original arrangements and melodies, as he creates his own interpretation of each hymn using simple instrumentation for an intimate sound.
Lavik is joined by industry veteran Fernando Ortega on "Tis So Sweet to Trust in Jesus," a highlight. "What a Wondrous Love is This" is a fresh take of this hymn which showcases Lavik's guitar style, while "Amazing Grace" takes on an acoustic, jazzy feel. The album's melodic sounds draw listeners into a quiet place, especially on "My Father's World" and "I Surrender All." With an acoustic vibe comparable to Brandon Heath and Warren Barfield, Roots Run Deep is an organic "unplugged" worship experience.
Review by: RACHEL HARROLD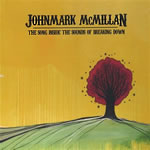 JOHNMARK McMILLAN — The Song Inside The Sounds of Breaking Down (independent)
File Under: American Rock & Roll / Rating: 4½ Stars (Excellent)
THE SOUND OF BREAKING DOWN
Sometimes, when we are going through a difficult and painful season, we can't put to words how we feel, but we are able to find a song, poem or Psalm that conveys it exactly. Charlotte-native JohnMark McMillan has created the most honest and emotionally bonding album since Gasoline Heart's debut, You Know Who You Are. It was written and recorded just months after his first independent album was released, following the tragic death of one of his close friends in a car accident. As John states, "This album deals with what happens when you fall apart."
The pain heard in his Pete Yornsounding vocals in songs like "Breaking Down" and "Kiss Your Feet" are clearly modern psalms for the youth of America who are broken, searching and in need. The last song on the album, "How He Loves," was written the day after his friend died. It was not written to be a worship song, but churches around the nation have started to include this song in their worship sets. His performance at The Call in Nashville this summer (check it out on YouTube), where a stadium of people were singing it in unison, solidified that a profound spiritual revival happens when this song is played. (This is the kind of passionate impact that record labels, managers and booking agents attempt to create in marketing plans.)
Near the end of the song, you hear John crying as he recorded the vocal track. It is one of the most emotionally moving parts ever heard on a song or album. To sum up, this is what music, poetry and being a Christian should sound like. Yes, the Christian life brings joy, but there is also pain, and this is the sound of breaking down.
Review by: BRAD MOIST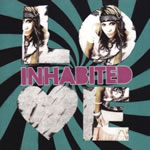 INHABITED — Love (7 Spin)
File Under: Modern/Alternative Rock / Rating: 3 Stars (Good)
MOVING TOWARD THE MORE ORIGINAL
On Inhabited's 2005 debut, The Revolution (Fervent), the group provided a pleasant, though in many cases, noticeably derivative amalgam of Evanescence, BarlowGirl and Plumb. Though splashes of those similarities resurface to a certain extent (plus bits of Paramore), Love showcases the group expanding its sonic palette, while also providing eternity-minded messages.
The title cut is a stirring acoustic ballad where front woman Sara Acker speaks about love's many angles, particularly the intertwining of the Lord's unconditional acceptance with His grace-drenched opportunities for redemption. The sweetly sung "Song To the Fatherless" expands on that issue, reminding listeners of Christ's ultimate protection, despite the fractured parental relationships found in this world.
"We Will Live" and "Are You With Me" return to edgier contexts via chunky guitars and thumping drums, showcasing growth in the vocal and instrumentation departments, wrapped around glistening production from Monroe Jones (Third Day, Jackson Browne). Yet, the band still leans a little too heavily on outside influences during the Gwen Stefani "Hollaback Girl"-cloned "Hush" and the Superchick-styled pep rally cheer "Are You With Me." Thankfully, it's not to the same degree of regularity as the first time out, suggesting that if Inhabited continues in this otherwise more original direction, its third disc could be a complete charm.
Review by: ANDY ARGYRAKIS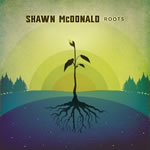 SHAWN McDONALD — Roots (Sparrow)
File Under: Pop / Rating: 3 Stars (Good)
ROOTS FINDS McDONALD BRANCHING OUT
You'll feel misled, trust me. I understand that, lyrically speaking, Roots is a reference to the spiritual theme dominant on Shawn McDonald's latest—an exploration of the soul's grounding in God. Still, you purchase a CD for the music, and Roots is hardly an apt description.
Instead, McDonald branches out with an expansive musical vision and brilliance unlike anything he's previously released. "Clarity" bursts forth with Jason Mraz-like enthusiasm, albeit slightly overproduced. Still, the track expands McDonald's repertoire slightly into electric territory. "Captivated" follows with an orchestral opening as McDonald waxes on the surrounding world that inspires and moves him before settling into familiar acoustic ground.
"You are what I long to find to melt this cold heart of mine/ 'Cause when you are around, I'm found," McDonald admits, on the seasonally sparse "Winter." It's a poetic musical turn that McDonald has proven himself so good at, time and again. "Waltz in 3" moves in a whimsical, fairy-tale sort of musical motion and showcases McDonald at the height of his sonic stretches.
Of course, such exploration leads to mistakes as well. The largely forgettable "Slow Down" makes one wonder what exactly McDonald is going for. However, Roots reaches new heights for an already impressive singer/songwriter.
Review by: MATT CONNER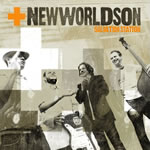 NEWWORLDSON — Salvation Station (Inpop)
File Under: Gospel/Funk/Blues / Rating: 4½ Stars (Excellent)
WORTHY OF A STANDING OVATION
Hailing from Niagara Falls, Newworldson brings a fresh taste of gospel/funk/blues to listeners' speakers. Put on your dancin' shoes and shake a leg while these Canadians bebop and scat your socks off. The album pairs catchy melodies with a potent combination of straightforward rhythmic changes and fun but relevant lyrics. Unlike many albums, Salvation Station seeps talent from all angles, creating a truly unique and honest work. Currently on tour with the newsboys, Newworldson is honing its live performance, which the band is already known for. (Word has it they received a standing ovation during the GMA Week showcases last year, thoroughly impressing the hardest to impress.)
It truly is difficult to pick one standout track, or even two for that matter. Five cuts in though, "Sweet Holy Spirit" sings "If Pride is my Prison/Then Grace be my King/Sweet Holy Spirit, come rescue me," displaying the deep lyrical content Newworldson inhabits. Moreover, the use of an upright bass creates a colossal subtle difference that must simply be heard to know.
Salvation Station is indeed a musthave for 2008. You will find yourself hitting "repeat" again and again.
Review by: JONATHAN ISAAC HARMS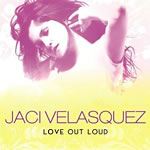 JACI VELASQUEZ — Love Out Loud (A'postrophe)
File Under: Pop / Rating: 3 Stars (Good)
OUR LOVE IS LOUD
Her first studio album since 2005, Love Out Loud has been hailed as Jaci Velasquez's "comeback album." Indeed, the beloved Latin singer side-stepped the spotlight in 2005, leaving many fans wondering when she would sing again.
With Love Out Loud, Jaci makes a strong return to the music circuit, offering several promising singles. "Nothing But Sky" resounds with her signature vocal and an utterly singable chorus. Other notable tracks are "Jesus (The Way)," where delicate vocals carry the worship ballad, and "A Likely Story," a sweet narrative of Velasquez's courtship with husband Nic Gonzales from Salvador.
Jaci's husband also joins her on "Por Escrito," which offers listeners a breathtaking Spanish duet between the two. As the strongest and most daring cut, it showcases their strong vocals, backed solely by a simple Latin-inspired guitar. Unfortunately, the zesty "Tango" is a bit too daring, with a chorus that says, "I think it's time to tango/Oh, oh/Sometimes you need to tango." Even with its fiery Latin sound and Jaci's sultry vocal, the song is oddly out of place on an otherwise strong disc.
Still, fans will most likely be delighted with the fresh songs from Love Out Loud.
Review by: GRACE CARTWRIGHT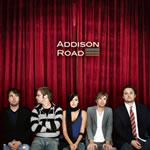 ADDISON ROAD — Addison Road (INO)
File Under: Rock / Rating: 3 Stars (Good)
ON THE RIGHT ROAD
With two indie albums and an EP to its credit, Addison Road entered the studio with Chris Stevens (tobyMac, Sanctus Real, Mandisa) for its latest offering.
The female-fronted band conjures a defining, driving sound from the very first downbeat. Most of the 10 tracks are upbeat anthems of exhortation and encouragement. Lyrics are simple and direct, which is fine for concert sing-alongs, but those looking to dig into more heady territory might be bored.
Too often Addison Road falls back on well-traveled metaphors and overused Christianese like "You are my shelter from the storm" and "Your love has set me free," which fumble otherwise likable tracks. The infectious "Sticking With You" features a whimsical background chorus of "Ohs" that gives the raw rock tune a West Coast, Beach Boys/Shins gloss. The raucous "It Just Takes One" is a call to action, one of many on this disc, which urges listeners to live out their faith to impact the world.
It's not until a little further down the track list that the listener gets a break from the aggressive, staccato rhythms the band is so fond of. Sonically speaking, the electric guitar and drums often sound as if they are battling for the spotlight, rather than harmoniously sharing the stage. The result resembles a shouting match of instruments.
But songs like "Hope Now," "Start Over Again" and "Run" redeem Addison Road. These tunes begin languidly and build into sweet, sweeping finishes. Here, the production is deftly wrapped around lead singer Jenny Simmons' voice, allowing her beautiful, plaintive falsetto to shimmer and her low end to resonate. If the other tracks had followed suit, Addison Road may have hit its stride.
Review by: LIZZA CONNOR BOWEN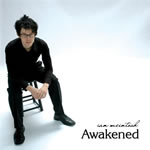 IAN McINTOSH — Awakened (independent)
File Under: Worship / Rating: 4½ Stars (Excellent)
OUT OF THE BOX
"You've never experienced worship like this," states Ian McIntosh. Some worship is meant for the crowds. And some worship is meant for just ourselves. But it all glorifies God. Ian's songs may not be the type of songs you will hear thousands singing in unison, but these are the songs that make you want to grab your headphones, lay in bed and just listen. These are the songs that help isolate us from the worries of today and help us focus on the heart of what matters most.
There is intensity in emotion, but also a calming spirit throughout the album, heard in tracks like "Made to Love." Multiple programming-based interludes set a supernatural mood for when you need to be still.
Despite strong similarities to Coldplay and Sigur Rós, Ian still creates a worship album that symbolizes the heart of where youth are today. There is an anointing on this album, and it in no way falls in line with what you may think a typical worship album sounds like. Awakened is for those who want their worship to sound outside the Nashville box.
Review by: BRAD MOIST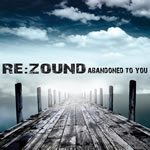 RE:ZOUND — Abandoned To You (Vertical Shift)
File Under: Rock / Rating: 4 Stars (Great)
DEBUT RESOUNDS WITH POTENTIAL
In 2001, RE:ZOUND was awarded the prestigious title of MTV's "No. 1 Undiscovered Band." Since then, the Arizona-based band has been garnering a fan base among both U.S. and international locales due to its unprecedented schedule of touring, writing and recording. During that same time, they also obtained three R&R Top 20 singles. With its first Vertical Shift Records release (distributed through EMI CMG), the band is ready to take the next step toward becoming a household name. If Abandoned To You is any indication, it will not be difficult for the band to accomplish.
This is a well-crafted album, both musically and lyrically. Although reminiscent of bands like Collective Soul and Creed, RE:ZOUND proves it also has a distinct sound, with songs that range from guitar-driven rock to modern worship.
As the title of the record indicates, complete abandonment to God is the underlying theme. Along with excellent instrumentation, the band offers some of the most poignant and thought-provoking worship songs recorded within the last few years. With songs like "Beautiful" and "35 Weeks," this band is destined to make an impact on listeners everywhere.
Review by: PAUL DURHAM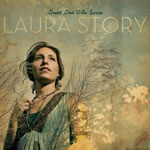 LAURA STORY — Great God Who Saves (INO)
File Under: Pop/Worship / Rating: 4 Stars (Great)
A REMARKABLE STORY INDEED
Atlanta-based singer/songwriter and worship leader Laura Story's compelling label debut deserves an extended hearing by traditional and modern worship music listeners alike. Expounding the intricacies of faith with poise and charm, the artist draws significant inspiration from a recent personal crisis. Only one year after marrying her childhood sweetheart, Story's husband was diagnosed with a brain tumor. Somehow, Story manages to trust God through the deep waters, and through the pain she reveals a decidedly intimate musical offering.
From the country-inflected title track to the redemptive piano-driven ballad "Grace," the whole project resonates with organic warmth evocative of a young Nichole Nordeman. At times, Story's arrangements are strikingly minimalist, as evidenced on delicate song "Perfect Peace." Elsewhere, though, buoyant cuts like "Bless the Lord" and current radio single "Mighty to Save" radiate with reverential timbre.
Story also unveils a goose-bumpinducing version of mega anthem "Indescribable," a hymn she penned that initially gained popularity when Chris Tomlin released it in 2004. Of course, today the song is a modern worship fixture in churches around the world.
As soothing as a cup of herbal tea after a hectic day, Story's debut should serve as a cathartic achievement for the artist and a rewarding gift to listeners.
Review by: DAVID McCREARY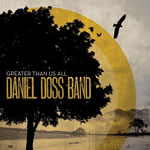 DANIEL DOSS BAND — Greater Than Us All (Sparrow)
File Under: Worship/Pop / Rating: 3½ Stars (Very Good)
GREATER WITH EVERY SPIN
New artist Daniel Doss and his band burst onto the scene with Greater Than Us All. Vocally, think a mixture between Bart Millard (MercyMe) and Chris Tomlin sung in the style of Steven Curtis Chapman. The similarities are especially evident on the third track, "Hold On," which describes the freedom with which God generously gives His love. Doss sings, "Hold on/Lay your weary head upon my shoulder." Front and center is the pure and honest worship conveyed through music and song.
Greater Than Us All finds a comfortable combination of fast, medium and slow tunes pairing pertinent music with insightful and worshipful lyrics. The disc has the ability to continue to get better and better with every play. Each listen reveals a new snippet of music that perhaps the listener didn't catch previously. Doss' music does indeed have the ability to cross over into different parts of your day lending itself to be the soundtrack of your Christian walk.
Review by: JONATHAN ISAAC HARMS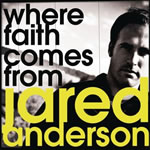 JARED ANDERSON — Where Faith Comes From (Integrity)
File Under: Modern Worship / Rating: 2½ Stars (Fair)
CLICHÉD AND UNDERWHELMING
If Jared Anderson wanted his audience to figure out where his faith comes from by listening to his project of that very title, he might have fallen short. While the album is filled with solid, positive songs of worship, it suffers from a lack of depth, creativity and originality. Cliché lyrics are rife throughout each track. And where the lyrics do become somewhat less familiar, they become somewhat stranger: "I've slayed the dragons like immortal Frodo Baggins…"
That's not to say there are no strong points to the album. It delivers several statements of faith, obedience and a desire to be in God's presence. But the lack of contrast—from the real, tangible struggles of life to the more intangible desires of the heart—makes it somewhat unconvincing.
Musically, the album doesn't break any new ground. The chord patterns are predictable and the production solid, yet underwhelming. On more than one track, listeners find themselves trying to place where they've heard that particular lick, rhythm or melody before.
The faithful heart of Jared Anderson comes through on this album, but the musical quality indelibly suffers from a lack of serious soul-searching and risktaking. Anderson may know where his faith comes from but fails to relate it clearly on this project.
Review by: CAROLINE LUSK