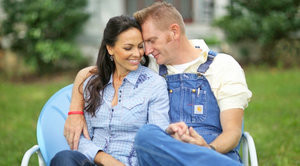 Few of us haven't been touched by the music and message of Joey + Rory as the husband and wife duo have kept their fans informed of Joey's ongoing battle against cervical cancer. In what they knew would be their final musical release, Joey + Rory have made another inspiring and courageous statement with Hymns That Are Important to Us.
While each of the hymns present on Joey + Rory's new album have been recorded many times over, it's impossible to separate the gravity of their situation while listening to classic songs of the church like "It Is Well With My Soul" and "I Need Thee Every Hour." The band's throwback country sound mixes well with these familiar hymns, and the lyrics take on an added depth as Joey sings them.
Even more, the duo decided to include a recent fan favorite, "When I Am Gone," to close out the project. While not a hymn, it is certainly a heartfelt ballad that matches the mood and personalizes the project even more.