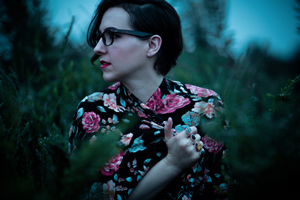 Audrey Assad had provided hints of both impact and inspiration on projects past, but Inheritance provides as much substance and style as any record will likely hold in 2016. The singer-songwriter's highly-anticipated hymns project includes originals alongside familiar favorites, but Assad's strong artistic touch and the incredible production of Daniel James (Canon Blue) gives every song multiple layers of texture and meaning.
"Even Unto Death" is the album's lead single and rightfully so, a triumphant song inspired by the recent martyrdom of 21 Libyan Christians. It's a powerful refrain, backed by Matt Maher, and represents the potency of this set of songs well. "Holy, Holy, Holy" and "Jesus' Blood Never Failed Me Yet" are excellent examples of familiar songs receiving new instrumental treatments and breathes new life into what the listener knows so well.
Inheritance is a brilliant album, a heartening reminder of the centrality of Jesus in all things. It's a rare triumph that should glow beautifully as one of the year's best. It's certainly Assad's best.