Tyler Michael Smith was born and raised the Nashville area where he began learning to play the piano at the age of five. During his teenage years, he began composing material of his own. He has since written original music for commercials, short films, documentaries, and theatrical feature films. Tyler's music has been used by a variety of different companies including Sony Pictures, Carmike Cinemas, Lifetime, Coca-Cola, and Cinemacon. In addition to scoring films, Tyler has also toured as a keyboard player for his father Michael W. Smith, 4HIM, and Guy Penrod. He is also a Dove Award nominated producer, working with artists spanning multiple genres. Tyler currently resides the Nashville area with his wife and five children.
Listen to the studio version:

If you're in the Nashville area, We invite you to a free Christmas concert on December 16th from 6 PM to 8:30 PM with the world-famous Jonathan Cilia Faro, Tyler and Sarah Smith to raise support for the VisitationHospital.org.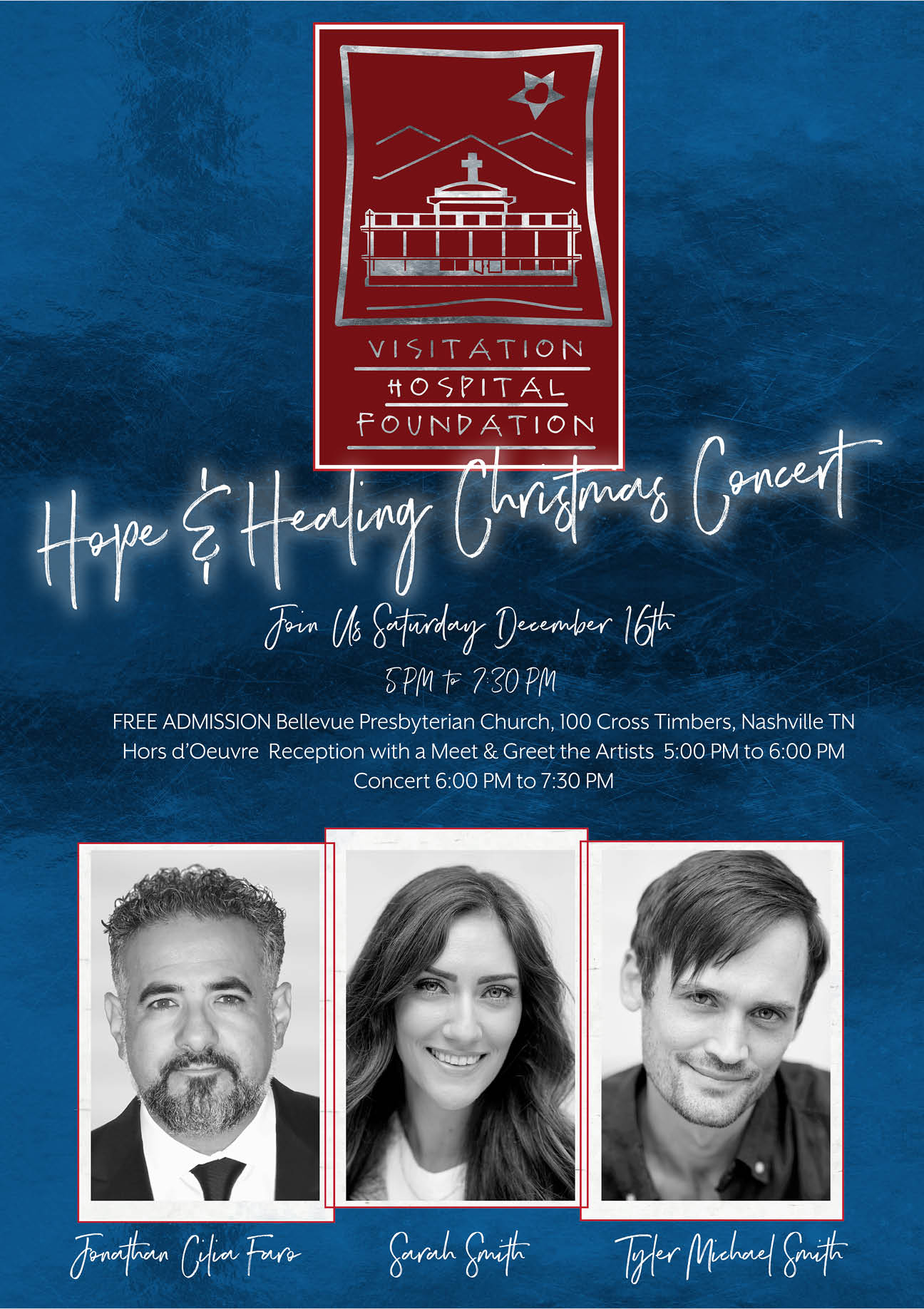 Visitation Hospital Foundation (VHF), based in Nashville, Tennessee, was founded by Theresa Patterson in 1999 as a 501(c)3 Christian nonprofit organization on her 45-year journey consisting of 123 trips serving the people of Haiti. Fifteen years ago, Theresa envisioned opening a clinic to provide quality and compassionate healthcare in the name of Jesus Christ for the people of southwest Haiti.
After 15 years, the clinic, referred to as a hospital by local Haitians, has served over 370,00 patients and serves, on average, between 2,000 and 2,600 patients monthly, turning no one away. The clinic provides medical, dental, pharmacy, lab, x-ray services, and follow-up visits for roughly two US dollars.
The clinic's all-Haitian staff serves roughly 360,000 children and adults in communities living within 11 surrounding regions. One of the challenges VHF currently faces is when our team finds a patient who needs surgery; we have to refer them to a hospital that may or may not have the capacity to address their needs. Unfortunately, VHF has found that patients often cannot afford or gain access to simple surgeries that would vastly improve their quality of life. To address this dire need, we are partnering with Jonathan Cilia Faro, Tyler, Sarah Smith, and Alex Walsh to address the challenge of providing access to life-saving surgeries for the people of southwest Haiti by preparing to build a new ambulatory surgical center so that the patients, many of whom travel over two hours to get to the clinic, don't have to travel further for all their surgical needs. This facility will offer adults and children general surgery, ophthalmology, and urology procedures.
Please join us on December 16 from 6 PM to 8:30 PM with the world-famous Jonathan Cilia Faro Tyler and Sarah Smith. Registration can be found on VisitationHospital.org. Seating is limited. A love offering will be taken at the event.