Red for War, the highly anticipated solo debut from acclaimed female rocker Zahna, is set to release August 17 from RockFest Records. Produced by Joshua Bertrand of Christian rock innovators and Billboard hitmakers Random Hero, the 10-song set is an in-your-face battle cry documenting a season of challenges for the artist.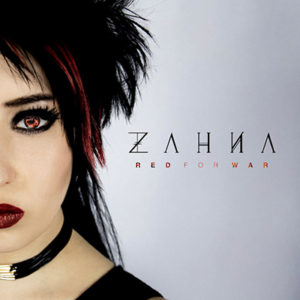 Proclaiming the truth of God's promises, Red for War is highlighted by debut single "Underneath," which reached #4 on Billboard's Christian Rock chart. With driving guitars showcasing Zahna's impressive vocal range, the song is a poignant reminder that nothing is hidden from the Lord.
Further exploring her unique musical fingerprint, album opener "Unshaken" declares God's sovereignty over our lives, as Zahna blends both gut-wrenching, visceral screams with ethereal, clean vocals. Red for War also features such diverse tracks as the hooky, synth-supported "Was I Bad," ballad "Edge of the Earth" and "Misery," the latter grieving betrayal but ultimately pointing to the One who is always trustworthy.
"I can let this bitterness fester inside of me, or I can fight the devil," Zahna says of recent trials which inspired the project. "Every disappointment is just a setup for something greater—not because we deserve it, but because we're children of God. We have that right as daughters and sons of God. At the end of the day, we win, no matter what."
"With only a handful of female solo artists in the rock world, it's truly an honor to call Zahna a member of the RockFest Records family," said Joseph Rojas, president, RockFest Records. "Her artistry—both as a singer and songwriter—is unmatched, and I believe Red For War carries an important message so many need to hear."
Zahna (Suzy Martinez) is a former lead vocalist of acclaimed rock band ILIA and was featured on the group's 2014 Reborn EP. She is currently performing selections from Red for War as part of the Summer RockFest Tour. Hitting more than 20 cities across the U.S. through August, the tour is headlined by Seventh Day Slumber and also features Spoken, Random Hero, Amongst The Giants and Gold, Frankincense & Myrrh.
RockFest Records, a Nashville Label Group imprint, is helmed by Joseph Rojas, founding member of Dove Award-winning Christian rock band Seventh Day Slumber. In addition to Seventh Day Slumber and Zahna, the label is home to hitmakers Random Hero; breakthrough rockers The Protest; Nashville-based rock/metal band The Persuaded; and metalcore trio Amongst the Giants. RockFest Records is distributed by New Day Christian Distribution, with digital distribution by Capitol Christian Music Group.
For further information, visit www.zahnaofficial.com