Nashville, TN (August 19, 2022)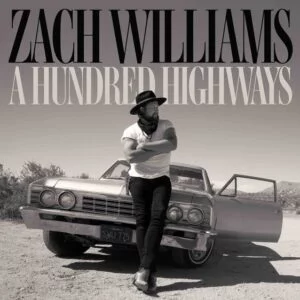 Two-time GRAMMY Award winner, multi-GMA Dove Award winner, and multi-platinum selling singer/songwriter Zach Williams has announced the release of his new album, A Hundred Highways. The anticipated 15-track project, his latest in three years, officially drops on September 30 (Sony Music/Provident Entertainment) and is now available for pre-order/pre-add. Additionally, a limited number of signed CD's are available for pre-order for only $7.99. Find out more HERE.
From start to finish, A Hundred Highways is Williams' faith on full display, each song built on the cornerstone of his unchanging love for Jesus. "T
his record feels more like me than anything else I've done," Williams shares. "It's the most 'Zach' record I've made. I wasn't concerned about if it fits in any certain pocket, I just wrote about my life experiences and the things I'm feeling and living."
While his GRAMMY Award-winning album, 2017's Chain Breaker followed by 2019's Rescue Story, sang of redemption and God's love, A Hundred Highways is redemption lived out, forgiveness explored, and deep love for his wife and family, all of the songs offering a true reflection of a man who's found a Savior and is never letting go. Produced by his longtime musical partner Jonathan Smith, this new batch of songs offers Williams' signature blend of country-meets-rock-meets- Gospel, all expertly blended with his genre-defining vocals that deliver a life fully lived.
Zach talked to us about the upcoming album at Lifest Music City:
The album's first single, "Heart Of God," is already making an astounding impact, receiving 1.5 million listens in its first week of release joined by a music video. Accompanying today's pre-order as an instant grat is "Big Tent Revival," a song peeking into his childhood memories with his grandparents, traveling to concerts on weekends, and how those times have impacted him as an artist. Listen to "Big Tent Revival" HERE and don't miss the lyric video below. Another addition to the album, following up with another high-powered duet thanks to the GRAMMY-winning "There Was Jesus" with Dolly Parton, Williams partnered with country star Walker Hayes on "Jesus' Fault."