Nashville, TN (March 5, 2019)
Coming on the heels of Apocrypha: The Legend Of BabyMetal and the upcoming The Ghost Of Ohio graphic novel, Christian comics publisher Z2 Comics is pleased to announce their next title is a collaborative partnership with multi-platinum, GRAMMY-nominated rockers Skillet. Eden: A Skillet Graphic Novel is based on an original story idea created by Skillet frontman John Cooper alongside the creative team of Z2 Comics: Josh Frankel and Sridhar Reddy. Writers Alex Paknadel and Dan Watters of Random Shock Studios are writing the comic with Cooper. Artist Chris Hunt created the cover and will be working on the pages of the comic scheduled for release late Summer 2019.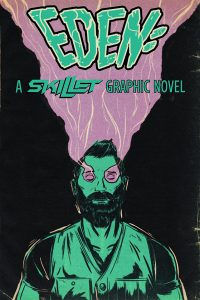 "I am beyond thrilled about 'Eden.' It has always been a dream of mine to create a comic. Comics are still an important part of my life today and I can now share that love with my children with the release of this book. In many ways, this graphic novel is a natural extension of Skillet's career. It is about perseverance, unlikely heroes, and faith in what you believe. I hope that the fans love it!" exclaims John Cooper of Skillet.
"We are very excited to join forces with John Cooper and the entire Skillet team to create Eden. This unique story idea and John's innate love of comics made this a natural partnership for us. We can't wait to share this with the world. This further cements Z2 Comics' reputation as the premier home for artists, musicians and their exclusive graphic novel projects," states Josh Frankel, CEO of Z2 Comics.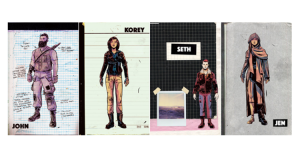 The story of Eden: A Skillet Graphic Novel follows the two main characters of John and Korey (based on the real life Coopers). To save their family and town they must uncover the mystery of what lies behind the dreams of a prophecy that threaten to consume them. They set out on a quest that will take them through the barren wastelands and gleaming cities of a near-future Tennessee. Bandmates Seth Morrison and Jen Ledger are also focal characters in the story about survival, determination and strength of personal beliefs.
Fans can go to https://www.z2comics.com for more information.