Nashville, TN (July 8, 2019)
This September, co-creator of VeggieTales, Mike Nawrocki, will continue The Dead Sea Squirrels children's Christian fiction series with Nutty Study Buddies and Squirrelnapped!
These new books continue the hilarious story of Michael Gomez and Merle and Pearl Squirrel with lessons on the value of hard work and honesty
In addition to illustrations throughout, each book opens with a comic-book style prologue recapping the story thus far and closes with fun profiles of each main character.
The "Dr. Gomez's Historical Handbook" feature teaches readers about the history of the Dead Sea Scrolls, prompting curiosity about the Bible
The Dead Sea Squirrels will appeal to both boys and girls, but especially to reluctant reader boys who are engaged by humor and adventure—offering a wholesome alternative to potty-humor books and secular bestsellers.
In praise of Squirreled Away, the first installment in the Dead Sea Squirrels series, Kirkus Reviews noted that, "there is plenty of humor to tickle young readers, and the target audience will undoubtedly laugh out loud. . . . Fans of such characters as Big Nate and Stink will likely enjoy the silly humor and adventures in this series opener, while many of their caregivers will appreciate the character-building lessons."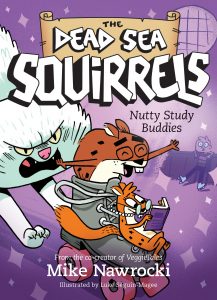 Nutty Study Buddies
The Dead Sea Squirrels are . . . actually pretty good at math! When Michael finds himself struggling through his math class, Pearl Squirrel offers to help him study, but will Michael accept Pearl's assistance or head to the roller rink with his human friends? Michael learns the value of hard work.
Squirrelnapped!
The Dead Sea Squirrels are missing! Well, Pearl is. Michael is enjoying his first Saturday of the school year, teaching Merle and Pearl to play soccer—in the house! A stray ball smashes his mom's prized elephant lamp, and Michel sees the chance to lay blame on his little sister. He and the squirrels head to the park to play. When the man in the suit and sunglasses shows up and snatches Pearl, Michael's friends and family band together to try to get her back! Michael learns the value of honesty.