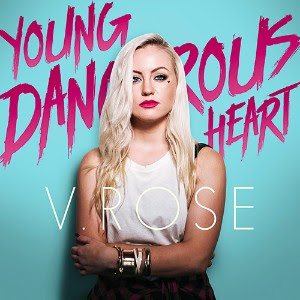 LOS ANGELES, Calif.—A formidable female-fusion of modern pop unlike anything else Christian music has to offer is Inpop's latest prodigy, pop artist V.Rose. This vibrant young artist is making a splash with her debut release Young Dangerous Heart set to hit shelves and digital markets April 22, 2016. See full track listing below.
The 13-track album is a sonic blast collection that is packed tight with power-pop grooves fueled by forgiveness, informed by truth; an empowering reminder for the younger generation who may be struggling to find themselves.
"The transition from the teenage years to being a young adult is such a vulnerable place," explains the 27-year old. "You can grow into being a strong, confident person or an insecure and confused, all depending on whether you play it safe and try to make people happy or whether you can listen and follow God's voice in your heart. If you can do that, true joy is within reach."
The first radio single, a cover of the mega church hit "Sinking Deep" is already raising eyebrows of critics and radio promoters far and wide. She partnered up with producer Jordan Sapp (Jason Derulo, Blanca) to create a pulsating ballad that perfectly captures the spirit of the singer.
"When I first heard it, it was like the song was waiting for me," says V.Rose. "I was struck by the purity and honesty in the lyric, zoning in on that moment where it's just you and God. Effortless and beautiful. And that's exactly what the recording was like. Just me and God."
Co-produced by longtime friend and mentor Spec, Young Dangerous Heart is the follow up to the EP Hearts Up released last fall, but V.Rose has earned her performance stripes at festivals, camps and conferences all over the country with major chart-topping artists.
V.Rose is breaking the mold of what it means to be a female artist in the music industry, and she is one that Inpop Records' President Mark Lusk believes the music industry is in desperate need of.
"V.Rose is not your typical artist," explains Lusk. "She combines hip-hop, pop, dance and worship into one record. There hasn't been a female artist who can identify with the hip-hop culture but that is V; that is the world she came from. To see where God has brought her as an artist and as a woman of God is incredible. We believe her music and testimony will touch millions of people and we can't wait for the world to hear it."
For more information on V.Rose and Young Dangerous Heart, please visit www.vrosemusic.com and www.inpoprecords.com.
Track Listing Young Dangerous Heart:
1. Take A Broken Heart feat. Derek Minor
2. If I Don't Have Love
3. Money$ On You feat. FLAME
4. I Love You So Much (ILYSM) feat. Trip Lee
5. Fairy Tale Ending
6. We're Girls feat. Angie Rose
7. Love Shaped Heart
8. Sinking Deep
9. Storms
10. Not Afraid of the Midnight
11. Emotionful
12. Bottom To The Top
13. Young Dangerous Heart