Universal City, CA (October 18, 2018)
Follow the powerful post-war journey of Olympian and World War II hero Louis Zamperini in the extraordinary true story Unbroken: Path to Redemption arriving on Digital and the digital movie app Movies Anywhere on November 27, 2018 and on Blu-rayTM, DVD and On Demand on December 11, 2018. From Universal 1440 Entertainment, the original content production arm of Universal Pictures Home Entertainment, in association with The WTA Group and Pure Flix, Unbroken: Path to Redemption is a continuation of 2014's epic saga Unbroken and filled with inspiring themes of faith, love and resilience.
The Blu-rayTM, DVD and Digital versions come packed with never before seen bonus content that dives deeper into the life of Louie Zamperini and the legacy he left behind. Exclusive content includes behind-the-scenes featurettes, interviews with cast and a closer look at Zamperini's struggle to find peace after his ruthless treatment as a Japanese prisoner of war.
Directed by Harold Cronk (God's Not Dead) and produced by Matthew Baer (Unbroken) and Mike Elliott (Peaceful Warrior), Unbroken: Path to Redemption is based on Laura Hillenbrand's bestselling book and stars Samuel Hunt (Chicago P.D.) as Zamperini, Merritt Patterson (The Royals) as his wife, Cynthia, Will Graham as his own grandfather, evangelist Billy Graham, alongside an outstanding supporting cast including Gary Cole (Veep), Vincenzo Amato (Unbroken), Vanessa Bell Calloway (Hawthorne), Bobby Campo (The Final Destination), and Bob Gunton (The Shawshank Redemption).
The film also features a brand-new track by Grammy Award®-winning and platinum-selling recording artists Switchfoot. The song, entitled "You Found Me," is the lead single from the film's soundtrack album, now available at retailers nationwide.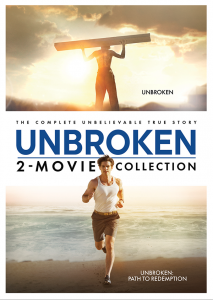 BONUS FEATURES on BLU-RAYTM, DVD AND DIGITAL:
-The Making of Unbroken: Path to Redemption
-Reliving the Revival
-TODAY Interview with Will Graham
-Switchfoot's "You Found Me" Music Video
-The Making of "You Found Me"
-The Heart of Unbroken: Path to Redemption
Unbroken: Path to Redemption Synopsis:
Beginning where the hit movie Unbroken concludes, the next chapter brings the rest of Louis Zamperini's inspirational true story to life. After surviving years of torture as a prisoner of war, Louis (Hunt) returns home from World War II, where he meets and marries Cynthia (Patterson). Haunted by his past, he is driven deep into despair. But when Cynthia turns to God at the 1949 Billy Graham Crusade, her most fervent prayer for Louis is to find peace and forgiveness. Based on Laura Hillenbrand's bestselling book, Unbroken: Path to Redemption is a "beautiful, beautiful film" (Kathie Lee Gifford, Today Show).
Unbroken Synopsis::
Academy Award® winner Angelina Jolie directed and produced this epic drama that follows the incredible life of Olympian and war hero Louis "Louie" Zamperini (Jack O'Connell) who, along with two other crewmen, survived on a raft for 47 days after a near-fatal plane crash in WWII – only to be caught by the Japanese navy and sent to a prisoner-of-war camp. Adapted from Laura Hillenbrand's enormously popular book, it's the inspiring true story about the resilient power of the human spirit.
BONUS:  Switchfoot perform's 'You Found Me' from the film's soundtrack at the CCM Magazine office.