Nashville, TN (April 19, 2019)
Franklin, TN-based singer/songwriter Tori Harper has released her latest song, "Revival," and is available now through all digital retailers and streaming outlets through The Fuel Music.
Realizing that revival is a conscious, individual awakening, the new song, which also goes to radio today, is Harper's own brave declaration and is meant to encourage others in this season, fanning the flames of revival she is seeing among Christians around the world.
"God is stirring something new right now! He is moving many to pray and putting the vision and inspiration of revival on our hearts!" exclaims Harper, who posted a video trailer of the song on Facebook.
"Revival Starts Here is a book that powerfully and practically lays out what it means for revival to start inside of us," she adds. "It answers the question, 'Now that I want revival, how do I start?' It is so amazing how the vision God gave me when I wrote the song 'Revival' and the message of this book so perfectly align."
Sharing the song with the book's author, Dave Clayton, who is Lead Church Planter and Pastor of Ethos Church, Harper and Clayton are now teaming up to spark a louder call for revival, giving away copies of the new music and book through radio stations nationwide.
"I am so in awe of God's perfect timing to be able to send them out together," says Harper. "It is an honor to partner with Dave Clayton as we spread God's vision for revival, and I pray that the book and the song inspire something new in your community!"
"Over the last several years, in churches all across the country, I have had countless conversations with people—young and old—about the growing fire Tori describes in her song 'Revival'," says Clayton. "Many followers of Jesus are sensing that, to put it in her words, the 'fire is getting stronger and it is starting in [their] souls.' Not only do I love this song but also I love this message because it is becoming the heart cry for so many."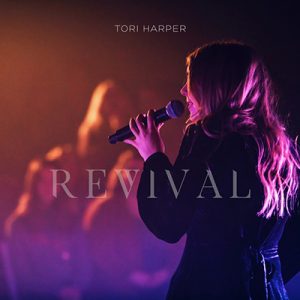 I wanna be brave I wanna be bold I wanna be proof
I wanna be love I wanna be hope I wanna be true
There's a fire getting stronger it's starting in my soul
I wanna be brave I wanna be bold I wanna be
A revival, revival
("Revival" chorus lyrics.)
"Revival" was produced by Colby Wedgeworth (Jordan Feliz, Mandisa, Danny Gokey) and co-written with Wedgeworth and Cindy Morgan.