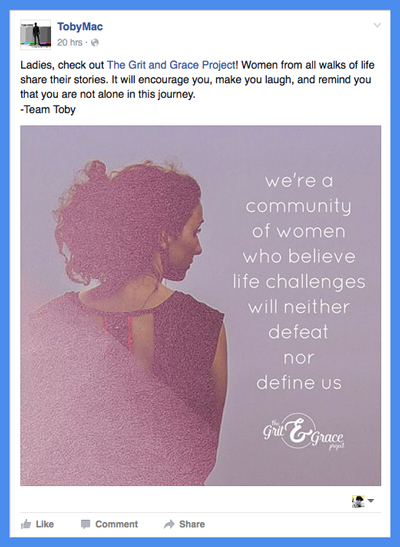 On his Facebook Page yesterday, TobyMac voiced support for the newly formed Grit & Grace Project, launched by author and entrepreneur Darlene Brock. The project is described as, "an online movement devoted to 'building a community of women who believe that life's challenges neither defeat nor define them.'"
TobyMac is currently on his ***THIS IS NOT A TEST TOUR*** featuring Britt Nicole, Colton Dixon, and Hollyn. This weekend, the tour will head south to the state of Florida—Tampa (Nov. 20), Coral Gables (Nov. 21), Jacksonville (Nov. 22), for a complete tour listing, please CLICK HERE. You can see his Facebook post to the right, please click the image to go to TobyMac's Facebook Page.
Created for women of all ages and walks of life, The Grit & Grace Project will feature regularly updated content as contributors share tips, stories, how-to's, encouragement and much more.
"I have come to realize life is a long-term project, and what it requires is our gender's most valuable traits – grit and grace," explains Brock. "I am on a mission to change the way ladies think about themselves. We are so much more than the roles we play, than the attitudes we are told we must hold. We are strong by our very nature, capable of possessing the very definition of grit and offering a vast amount of grace."
With themes ranging from surviving life challenges to the holiday season and new beginnings along with friendships and families, content comes from diverse writers, ranging from single, married, with children, without, formerly homeless, entrepreneurs, from small towns to metro living.
To learn more about The Grit & Grace Project, please watch the video below.