Nashville, TN (September 15, 2022)
Multi-Platinum-selling artist TobyMac and the Awakening Foundation announce the 2023 TobyMac Hits Deep Tour artist line-up featuring TobyMac and the DiverseCity band with support from CROWDER, Cochren & Co., Tasha Layton, Jon Reddick, and Terrian. The annual arena tour features 30 dates and will be a night of music and fun for the entire family beginning on January 26th through March 31st. Tickets will go on sale next Thursday, September 22nd at Noon ET. Visit tickets/info HERE.
"The Hits Deep Tour announcement is one of my favorite times of each year," shares Curtis Pinkerton, Director of Marketing, Awakening Events. "This tour has become an annual tradition for us at Awakening Events and for thousands of families across the US."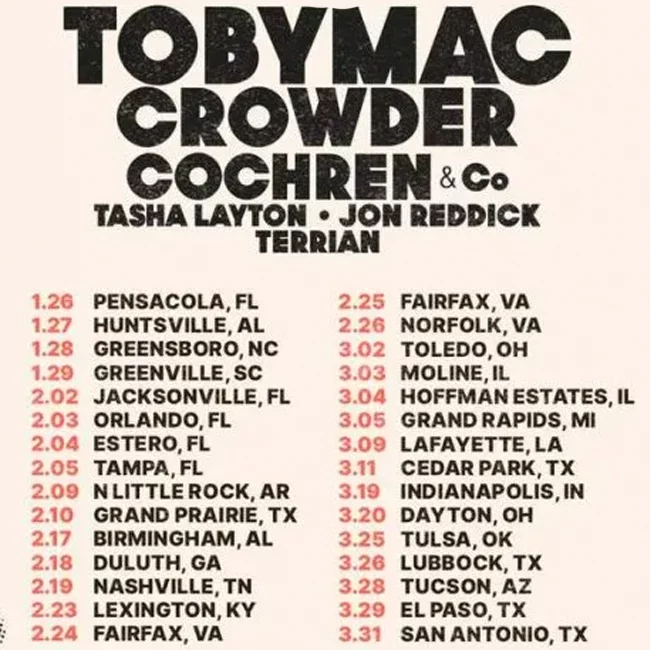 Fans will hear TobyMac's hits as well as new songs from his recent release LIFE AFTER DEATH, which debuted as Billboard's No. 1 Christian and Gospel record of the week during street week.
The Awakening Foundation is not only passionate about creating the best live event experiences but to also invest in each of the local communities where they bring concerts. The Awakening Foundation and Altrua HealthShare have committed to giving more than $200,000 in 2023 to those around the United States in need.
Kicking off ticket sales, there will be a special Fan Appreciation Launch Discount for 20 percent off standard tickets using the code INSIDER from September 22nd until October 13th.