UK Worship Leader and Minister Tim Hughes Releases New Album Pocketful of Faith, Plants Church In England's Second Largest City
Tim Hughes is one of a small group of British worship leaders and songwriters who have helped shape and define the faith journeys of worshippers young and old for the last fifteen years. The author of songs that have deeply resonated with generations of Christians around the globe, Tim is best recognized for his Dove Award winning modern worship anthem "Here I Am To Worship" along with songs such as "Happy Day," "Beautiful One" and "At Your Name." On July 17, he delivers a new set of songs with Pocketful Of Faith, a 12-track album that reflects a new season in his ministry.
Tim's story is a well documented one. From leading worship for tens of thousands at the annual UK Soul Survivor events, to joining Holy Trinity Brompton as Music Director. Tim, who is ordained within the Church of England, also pioneered Worship Central (http://www.worshipcentral.org), a global movement of worship leaders that run conferences, create online resources and record albums (Spirit Break Out, Let It Be Known and Set Apart.)
A career spanning so many high points is surely an impressive statement, an incredible contribution to resourcing churches from all corners of the globe. These are all tremendous accolades and achievements to have accomplished. And at only 37, Tim's just getting started!
This year, Tim and his family embark on a new adventure as they relocate from London to Birmingham, England, where Tim will serve as Priest-in-Charge of St Luke's Parish and where he will plant a new church in the heart of the city's entertainment district. So, it is fitting that his latest music project, which he describes as a "deeply cathartic experience," is titled Pocketful Of Faith.
"This project has been a very personal one for me… these songs are prayers, cries of hope, declarations of promises, vulnerable, raw longings for God to do something truly extraordinary," said Tim. "I don't know about you, but I'm all too aware of my short-comings and weaknesses. But I want to be someone who offers up my 'pocketful of faith' and lives a life believing that God could do something immeasurably more than I could dare dream or imagine."
Pocketful Of Faith, his fifth studio album, includes songs co-written with Martin Smith, Matt Redman, Reuben Morgan, Phil Wickham, Jonas Myrin and Tim's Worship Central teammates Nick Herbert, Luke Hellebronth and Ben Cantelon. The tracklist, including "Hope and Glory," "Plans" and "Only The Brave," speaks perfectly to this new chapter in Tim's life, but also reflects the struggle of all believers.
This is why I'm living / To face the giants with You…
And though my heart is racing / I'll leave my armour with You
– "Only The Brave"
In step with faith is obedience, a deliberate theme throughout the album. Tim explains: "On this journey I've been thinking about obedience and how often we don't like to embrace its challenges. It can be so easy to get caught up in building a successful career thinking about how we can become safe, secure, comfortable, happy but actually Jesus' call on our lives is to follow, and obedience is at the heart of that command… if this album carries a message, and it's predominately preached to me, it's that we need to seek the Lord and step out obediently in following him whatever the cost… stepping into the unknown, trusting and believing that God will come through."
Pocketful Of Faith is the story of Tim's family stepping out, leaning into God when His new call came, unsure of what might happen but sure God was on their side.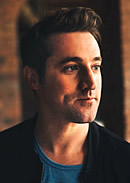 "I was keen that the album captured this blend of celebration and raw abandoned intimacy, that seemed to be so much of what life is about… these moments of joy and exhilaration, adventure, excitement, mixed with moments of pain, insecurity, fear, uncertainty. And in all of this, we find God. I wanted the sound to capture something of those extremes. To feel brave but also to feel intimate. To carry that tension of being bold but feeling overwhelmed."
Pocketful Of Faith is Tim's musical statement of belief and a declaration of faith that God is there, ready to catch you when you step out into His plans for your life.
Tim concludes, "My prayer now is that these songs would be a blessing to many churches and individuals as they seek God earnestly, trusting and believing in someone that has a greater purpose for our lives…to be part of something bigger."
For more information on Tim's music and ministry, visit http://www.worshipcentral.org and http://www.gasstreet.org.