Atlanta, GA (October 28, 2022)
TRIBL Records, in partnership with Faith City Music, celebrates the release of the new album, Welcome to Faith City, from GRAMMY, Dove, and Stellar Award nominated artist Tim Bowman, Jr & Faith City Music. Bowman & Faith City Music seek to deconstruct and redefine the concept of worship with their new album, Welcome to Faith City.
Welcome to Faith City is an introduction to Faith City Music's world. The project is the first album since Listen premiered at #1 on the Billboard Top Gospel Album Chart in 2016. Welcome to Faith City features life-changing collaborations with anointed worship leaders, including M.K. Ngenge, Le'andria Johnson, Sara Mia, Kierra Sheard Kelly, Malcolm Brown, Eden Williams, Maranda Curtis, Pjay Edmund, Derrick Millard, and Bri Babineaux.
Every song on the album is a unique worship moment. "Holy" combines classic worship with R&B elements. The song begins solemn and introspective, then moves into a declaration of God's consistent faithfulness. Kierra's powerful voice takes the message home with dynamic ad-libs.
"Jesus" combines the voice of gospel powerhouse Le'Andria Johnson with pop and rock elements. The vocals and instrumentals merge effortlessly to ensure that every lover of Jesus Christ receives this anthem's message. The song is a celebratory tribute to the encompassing joy received from a relationship with Christ.
"Here all the Time" is an impactful display of the group's stylistic versatility. The country-pop song featuring Tim Bowman Jr. and Maranda Curtis reminds everyone that the things they need to win in life are already present. After a powerful climax, the song ends with a quiet and introspective statement "what I was looking for was here all the time."
Bowman & Faith City Music have produced a project that will shift the idea of worship. Welcome to Faith City is a life-changing project. The group will appear on Fox & Friends on Saturday, November 5th.
YouTube Playlist:

Spotify Album Playlist: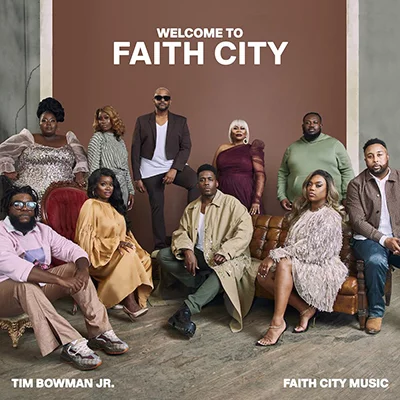 Welcome to Faith City Track List:
Welcome to Faith City with Pastor Mike Freeman
Enough (feat. Mumen Ngenge)
Jesus (feat. Le'Andrea Johnson)
Highest Place (feat. Sara Mia)
Holy (feat. Kierra Sheard Kelly)
Love is a Miracle (feat. Sara Mia, Malcolm Brown & Eden Williams)
Here All the Time (feat. Maranda Curtis)
Savior (feat. Pjay Edmund)
Maranda's Chant
Jehovah (feat. Derrick Millard & Maranda Curtis)
Love the Way You Love Me (feat. Bri Babineaux & M.K. Ngenge)
Surrounded
Best Life Now (feat. Kim Burrell)
Nobody But God (feat. Kierra Sheard Kelly & 1k Phew)
Great is Thy Faithfulness (feat. Erick Roberts and Sonya Brown)