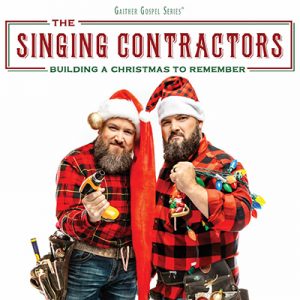 Nashville, TN (October 9, 2019)
It's not often one finds carolers wearing tool-belts, and it is quite rare to find working builders belting out Christmas tunes while they work.
Aaron Gray and Josh Arnett, otherwise known as The Singing Contractors, have put down their heavy drills and power saws long enough to ring in the holiday season with an all-new CD, DVD and televised concert special entitled Building a Christmas to Remember. The last time these "undiscovered powerhouse vocalists" took a few days off from their on-site construction work, the pair released a successful debut recording, Working on a Building, Hymns & Gospel Classics, which found the unlikely crooners on the sets of Good Morning America and Fox & Friends.
The talents of these two lifelong friends goes beyond their 20-year resume of building houses; they are also masters at inspiring and uplifting others by building beautiful harmonies. The foundation of their musical career was laid when a video of the pair singing "How Great Thou Art" a cappella while working on a job site went viral, garnering a following that has grown to 593k followers across social media and over 100 million views on digital platforms.
Since that first video, the duo has garnered wide acclaim, winning friends with their "everyday Joe humor" while debuting at Number 1 on Billboard's music video charts across all genres and taking the Number 1 spots on the Nielsen SoundScan Southern Gospel Album and Christian Music Video charts. The duo recently won Favorite New Artist at the 2019 Singing News Fan Awards.
The launch of The Singing Contractors' musical careers actually began, for both men, as children. Raised in Charleston, Illinois, Gray, the son of a preacher, traveled and performed with his family band. Arnett grew up in Anderson, Indiana, and also spent time touring and singing with his musical family. These family performances are how the two met as teens; the pair later reconnected when Gray moved to Indiana and they ended up subcontracting with the same builder.
Building a Christmas to Remember finds the hammer-swinging boys spreading holiday cheer with Christmas classics such as "Winter Wonderland," "Here Comes Santa Claus" and "Have Yourself a Merry Little Christmas." The burly, bearded builders, known for their contagious personalities, also have a bit of Christmastime fun on the album with a rendition of "The Chipmunk Song (Christmas Don't Be Late)"; and along with award-winning producer Michael Sykes, they actually worked some construction tools into the musical arrangements. Most importantly, the pair use their God-given musical gifts to remind us of the reason for the season with the heartwarming Christmas hymns "Silent Night," "Joy to the World," "Mary, Did You Know?" and more.
"'Mary, Did You Know?' has become a staple for us. We sing it nearly every show," stated Gray. "We've performed this song with a band. But it seems like everybody all over the country still likes to hear us sing our simple version, just a cappella, so that's what we did. We put it on this record a cappella."
"Man I love 'Go Tell It on the Mountain,'" added Arnett. "It's a message that remains true today-'go tell everyone about Jesus.' You'll hear us throw some tool sounds in the beginning and kind of start the rhythmic feel of the song, but the coolest part of this song was being joined by one of our music favorites-Michael English. He came in and laid down some fun background vocals."
The concert DVD (filmed LIVE at Gaither Studios) features several DIY segments from the guys, who demonstrate how to create several Christmas decoration pieces, as well as a behind-the-scenes interview with Arnett and Gray, who share their own personal Christmas memories and traditions.
Building a Christmas to Remember is exclusively distributed by Capitol Christian Distribution and Universal Music. The CD will be available on October 25, throughout general market stores and the Christian marketplace in addition to all major online retailers.
The DVD will be released on November 22; and the live concert will air on RFD-TV, TBN, Uplift TV, Heartland, TCT, The Walk TV, Total Living Network, CTN, Hope TV, Vision, The Miracle Channel, and CTS on select dates throughout November and December.