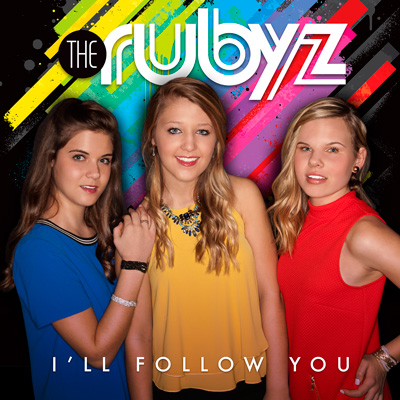 NASHVILLE, Tenn.—For the past nine years, The Rubyz have introduced the world to some of the best young talent in the Christian pop arena. Formed to offer strong role models and a positive musical alternative for tweens, The Rubyz have established a trusted brand with a passion to reach the next generation. Now, on June 17, The Rubyz will be releasing their fourth project, I'll Follow You, (iShine/Bema Media) just in time for summer.
The new project will debut The Rubyz current lineup of Addy Schneider (14), Jessica Coffey (14) and Tanner Davis (17).  Filled with big pop anthems reinforced by strong vocals, this EP promises to encourage and inspire tweens to think of themselves as VIPs – young adults who are focused on value, identity, and Purpose.
I'll Follow You features the production prowess of GRAMMY and Dove Award winning writer/producer Chuck Butler who has a musical pedigree including work with The Backstreet Boys, Nick Carter, TobyMac, Mandisa, Audio Adrenaline and Tenth Avenue North to name a few. His songs have been popular with TV producers as well, with placements on shows including GLEE, American Idol, Extreme Makeover and So You Think You Can Dance?
The four original songs lyrically match the mission of the band. Proverbs 31:10 inspired the first single of the album called Breathtakingly Beautiful.  This verse also inspired the name of the band reminding listeners that women's value is worth far more than rubies. "Live It Awake," "One," and the title track help young listeners to feel empowered to step out in faith and make a positive impact on the world.  The EP ends with a new, young version of the Christmas classic "Angels We Have Heard on High."
To promote I'll Follow You, The Rubyz will be performing on the iShine stage at Creation NE, Sonshine Festival and Creation NW this summer.  The band also released the video for the single "Breathtakingly Beautiful" last week, which can be viewed HERE.
The Rubyz have created a pedigree of young performers who have moved on to incredible careers and ministries in their own right, including Marissa Milele, (2007-2010) who was nominated this year for a Teen Choice Awards after her performance on So You Think You Can Dance?, Cami Childs, who is pursuing an acting career in Hollywood, and Alexis Slifer, who is completing her debut solo album. Though the lineup has changed, The Rubyz's vision of sharing with tweens how loved they are by God has never changed.