Nashville, TN (February 7, 2019)
Dawn of Destruction, the full-length debut from Nashville-based metalcore foursome The Persuaded, is slated to bow March 1. Produced by Dathon Conner (Spoken, Icon For Hire), the RockFest Records release features 10 tracks showcasing both clean and screamed vocals atop fiercely driving guitars.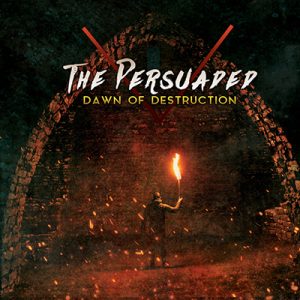 Born from a season of pain, Dawn of Destruction reflects the hope and redemption each of the group members has found in the wake of personal struggle. Galvanizing the album's overarching theme, lead single "Wolves" grapples with feelings of betrayal that ultimately give way to forgiveness.
"Everybody was hit at the same time with some kind of a relationship, family or financial thing that just destroyed us and split us apart," says The Persuaded frontman Josh Honea. "But then God stepped in and one by one, piece by piece, started putting everything back together."
Heavy-hitter "Forced Silence" further explores brokenness, both on a personal and global level, while "Unashamed" offers a blistering declaration of the Gospel, featuring guest vocals from Disciple's Kevin Young. Additionally, "The Fire" acknowledges the power of the Holy Spirit, and tracks "To My Brothers," "Lost Souls" and "Save Me" each showcase stories of prodigals restored to redemption.
"I found Christ again in a really dark time in my life, and He delivered me from a lot of things," Honea says of the group's inspiration. "I really felt the call on my life to start this band, to reach out to people dealing with those same things: addiction, depression, anxiety, suicidal thoughts."
"I want to be the voice that pulls someone back from the precipice, as so many bands have done for me over the years," guitarist Cody Phillips adds. "If the only thing we ever accomplish as a band is seeing one person choose to keep going and not end their life, then every sacrifice made along the way was worth it."
Comprised of Josh Honea (vocals, guitar), Joseph Vargas (vocals, bass), Cody Phillips (guitar) and Trent Russell (drums), The Persuaded have released two independent EPs since their formation in 2012. The group has opened for such artists as Disciple, Decyfer Down and Building 429.
RockFest Records, a Nashville Label Group imprint, is helmed by Joseph Rojas, founding member of Dove Award-winning Christian rock band Seventh Day Slumber and creator of the City RockFest Tour. RockFest Records is distributed by New Day Christian Distributors, with digital distribution by Capitol Christian Music Group.
For more information visit www.rockfestrecords.com