Nashville, TN (May 13, 2019)
Steven Curtis Chapman shared this message and song with Christian music fans that follow him on Facebook today.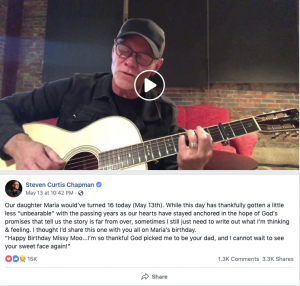 "Our daughter Maria would've turned 16 today (May 13th). While this day has thankfully gotten a little less "unbearable" with the passing years as our hearts have stayed anchored in the hope of God's promises that tell us the story is far from over, sometimes I still just need to write out what I'm thinking & feeling. I thought I'd share this one with you all on Maria's birthday.
"Happy Birthday Missy Moo…I'm so thankful God picked me to be your dad, and I cannot wait to see your sweet face again!" 
Watch the video here: