Worship and Believe To Release March 4, 2016, iTunes Pre-Sales In Progress—Tours With Amy Grant, Third Day Scheduled For Spring 2016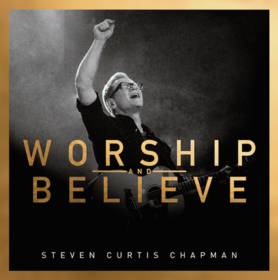 FRANKLIN, Tenn.—Multi-platinum selling and five-time GRAMMY® award winning artist Steven Curtis Chapman is set to release his latest project on March 4, 2016 (Essential Worship). Titled Worship and Believe, this is not only Chapman's 23rd career studio album in a three decade-long career but is his first worship record. The album was co-produced by Chapman and Brent Milligan.
Years before his latest album, 2013's Glorious Unfolding, he had been encouraged to make a worship record. Now with Worship and Believe, a new season is beginning for Chapman – creating more vertically-focused worship songs spurred on by a soul awakening to worship music he experienced as he held fast to songs of the church through a season of loss.
Chapman shares, "I always loved singing worship songs and people responded when I'd sing them during shows. They were what I held on to so tightly when we lost our daughter Maria, but the timing was never right for me to make a full record of them."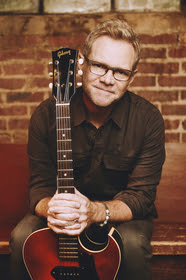 It was on THE STORY tour with pastor Randy Frazee when Chapman first heard about BELIEVE, a 30-day church curriculum that Frazee was working on as the follow up to THE STORY. "As Randy talked about how important it is for us as the Church to know what we believe and why, I began to get excited thinking, 'I want to write those songs, create those musical declarations that we as the church can sing together.'"
He enlisted the co-writing help of Matt Maher, Matt Redman, Chris Tomlin, and members of Rend Collective, and even the drummer for One Direction makes an appearance on the album. While Worship and Believe will be available at retail and online outlets, the album is also being cross-promoted by Zondervan as a worship companion product to the BELIEVE curriculum, currently being used by thousands of churches across the country.
Beginning today, the digital deluxe version of Worship and Believe is officially available for pre-sale at iTunes. The pre-sale for the digital deluxe version offers six tracks instantly upon pre-ordering the album – three studio and three live versions of "Amen,"  "More Than Conquerors" and "We Believe." "Amen," the album's first radio single, was the most added song at radio its first week.
The digital deluxe edition includes 11 studio songs and six live-recorded songs, the standard digital version will include all 11 studio songs, and the physical edition will have the 11 studio songs and four live-recorded songs. All three versions will officially release March 4, 2016.
Chapman kicks off his "Joy: The Christmas Tour" tonight in Asheville, NC, and this coming spring he will co-headline a tour with Third Day, following a multi-city tour with Amy Grant in February.
This past fall Chapman participated in the Experience Conference held in Orlando, and he is scheduled to participate in additional worship conferences in the new year.
In November, Chapman kicked off the second season as host of the popular concert series, "Sam's Place-Music for the Spirit," at Nashville's historic Ryman Auditorium. Running through spring 2016, many of today's favorite artists are expected to appear throughout the rest of the season such as Hunter Hayes, Dave Barnes, Matt Maher, Ronnie Milsap and MercyMe. Tickets can be purchased by clicking here.
For the latest tour schedule or more information on Steven Curtis Chapman please visit StevenCurtisChapman.com.