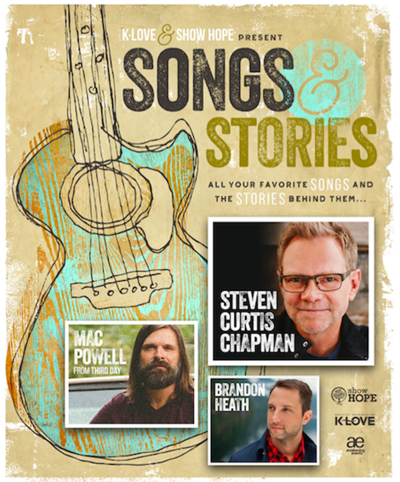 NASHVILLE, Tenn.—It was five years ago when Steven Curtis Chapman debuted his Songs & Stories Tour, which became one of his most successful tours ever with sold-out crowds across the country. This fall, he will take the anticipated show back on out the road for its third run and will be joined by Mac Powell from Third Day and Brandon Heath. The 20-city Songs & Stories 2016 Tour, presented by Show Hope and for the first time by K-LOVE and in partnership with Awakening Events, will kick off on September 15 in Philadelphia and wrap October 16 in Jacksonville, FL.
"In 2011 I had a chance to put together this unique tour experience and it would prove to be one of my most memorable and special tours ever," explains Steven Curtis Chapman. "Those who know me know that I love to tell stories with my music – behind every great song is often an equally great story. I'm very excited to announce that I'm creating that experience again for this fall, and two of the best songwriters I know will be joining me—Mac Powell from Third Day and Brandon Heath! We hope you'll join us for what we plan to be an unforgettable night."
Each evening of the tour, Chapman, Powell and Heath will perform some of their favorite songs, along with fan favorites, in a unique songwriting atmosphere. They will also share many of the powerful stories that have come as a result of these songs.
Mac Powell shares, "I can't tell you how excited I am to be on the stories and songs tour. I get to share more insight into some of my songs in a way they haven't been shared before. Secondly, to be able to share the stage once again with two of my favorite singer/songwriter's in the business—Brandon Heath and Steven Curtis Chapman—will be amazing. You may have seen us in concert before, but never like this!"
"I'm excited to share the stage with two of my music heroes," exclaims Brandon Heath. "I've gotta really up my game on the Stories and Songs tour – these guys have major songwriting muscle and I'm the grunt of the bunch."
Songs & Stories Tour dates (subject to change):
Thurs., Sept. 15 – Philadelphia (Bensalem), PA – Christian Life Center
Fri., Sept. 16 – Youngstown (Coitsville), OH – Victory Christian Center
Sat., Sept. 17 – Chicago (Tinley Park), IL – Family Harvest Church
Sun., Sept. 18 – Minneapolis (Eden Prairie), MN – Grace Church
Wed., Sept. 21 – Milwaukee, WI – The Milwaukee Theatre
Thurs., Sept. 22 – Lincoln, NE – Lincoln Berean Church
Fri, Sept. 23 – Denver (Cherry Hills Village), CO – Denver First Church
Tues., Sept. 27 – San Jose (Fremont), CA – Harbor Light Church
Wed., Sept. 28 – Eugene, OR – Hult Center For The Performing Arts
Thurs., Sept. 29 – Seattle (Redmond), OR – Overlake Christian Church
Fri., Sept. 30 – Portland (Gresham), OR – East Hill Church
Tues., Oct. 4 – Sacramento, CA – Bayside Church
Wed., Oct. 5 – Fresno, CA – Cornerstone Church
Thurs., Oct. 6 – San Diego (El Cajon), CA – Shadow Mountain Community
Sat., Oct. 8 – Phoenix, AZ – North Phoenix Baptist Church
Sun., Oct. 9 – El Paso, TX – Plaza Theatre
Thurs., Oct. 13 – Austin, TX – Riverbend Church
Fri., Oct. 14 – Lafayette, LA – Crossroads Church
Sat., Oct. 15 – Pensacola, FL – Marcus Pointe Baptist Church
Sun., Oct. 16 – Jacksonville, FL – Moran Theater