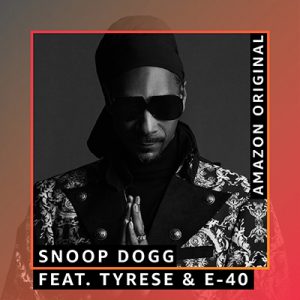 Nashville, TN (November 19, 2018)
On Friday November 16th, Snoop Dogg released an Amazon Original "Grateful" featuring Tyrese and E-40. Only available to stream or purchase on Amazon Music, the song follows the release of Snoop Dogg's #1 debut Gospel album Bible of Love.
You can listen to "Grateful" streaming on Amazon Music now here: 
https://www.amazon.com/gp/product/B07JZHW4FY
Released on March 16, 2018, Snoop Dogg's 32-track gospel album Bible of Love debuted at #1 on Billboard's Top Gospel Albums chart and #1 on Nielsen SoundScan's Gospel Total Consumption chart. Answering questions of some fan skepticism, Bible of Love debuted at #2 on Billboard's Top 200 Christian & Gospel chart, #2 on Nielsen SoundScan's Christian/Gospel Digital Album chart, #3 on Billboard's Top Christian & Gospel Album's chart and was streamed over three million times in its first week alone.
Amazon Music listeners can listen to "Grateful" in the Amazon Music app for iOS and Android and on Alexa-enabled devices.