Nashville, TN (October 17, 2018)
Smalltown Poets & The Choir are celebrating Christmas together this year in Nashville and Atlanta. The groups will play two shows together in Nashville on December 7 and 8th (with limited seating) and in Atlanta on December 9th. Both bands will be performing Christmas songs at each show!
Dan Michaels of The Choir comments, "we're excited to play these shows with our new friends in Smalltown Poets! This is the first time The Choir will be performing a live Christmas show. We'll sprinkle in some of our regular songs, but it is going to be so fun to do something different and celebrate the holidays with our fans."
"As long time fans of The Choir, we're very excited to share the stage with them for 3 nights this December. Definitely something not to be missed," says Kevin Breuner from Smalltown Poets.
Make sure you get your tickets while they last!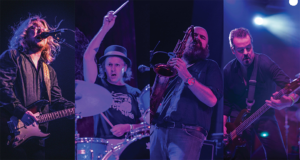 December 7th
@ Studio Instrument Rental
Nashville, TN
https://www.itickets.com/events/407683.html
December 8th
@ Studio Instrument Rental
Nashville, TN
Tickets:
http://www.itickets.com/events/408035.html
December 9th
@ Smith's Olde Bar
Atlanta, GA
https://www.eventbrite.com/e/smalltown-poets-tickets-50230222949