NASHVILLE, Tenn.—GRAMMY® nominated and multi-platinum selling rockers Skillet are celebrating their first No. 1 single on the Mainstream Rock Chart with their anthemic hit "Feel Invincible" off their latest project, Unleashed (buy).  Announced first to 500,000 fans via Facebook Live, the track, previously No. 1 at Christian rock as well, marks the band's sixth Top 10 single at mainstream rock radio, and sets them apart as the first act from the Christian genre to top the chart. Previously, "Awake and Alive" from 2009's Awake (buy) climbed to No. 1 on Billboard's Active Rock chart, which was discontinued in 2013, along with "Monster," "Not Gonna Die," "Sick of It" and "It's Not Me It's You" all reaching top 10 or higher there as well.
"Feel Invincible" has also been a hit in the sports world, having been used by the NFL's Monday Night Football, Major League Baseball (MLB), National Hockey League (NHL), WWE during their Battleground Pay-Per-View, TBS' E-League and Nickelodeon's Kids' Choice Sports Awards. The No. 1 song was also chosen by the Atlantic Coast Conference (ACC) for use throughout the entire 2016 football season. The song has been the soundtrack for the opening video montage leading into each week's syndicated game reaching over 90 million TV households. This is the second time that Skillet and the ACC Network have teamed up. "Feel Invincible" has also been featured in Rock Band, while the video for the single has already been viewed over 17 million times and can be seen by CLICKING HERE.
Additionally, another track from Unleashed, "Back from the Dead" was featured in World Wresting Entertainment's 2017 launch trailer for the WWE2K17 video game, which released on October 11, 2016.
Skillet's inaugural general market headline tour sold out and packed crowds into venues across the U.S. this fall in Chicago, Detroit, Cleveland, Minneapolis, Milwaukee, etc., while this week launching their first European headline tour, kicking off with sellout shows in Paris, London, Cologne, Budapest and more.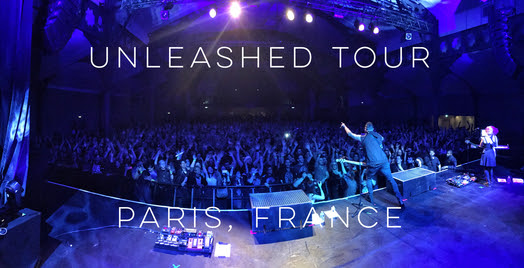 At Christian radio, the band is also celebrating "Stars" climb to No. 1 at Christian Hot AC while also climbing inside the Top 20 at NCA and debuting at AC Monitored. In the last month, "Stars" has received support from Christian AC radio in major markets like Dallas, Tampa, Atlanta, St. Louis, Las Vegas in addition to WAY-FM and K-LOVE national networks.