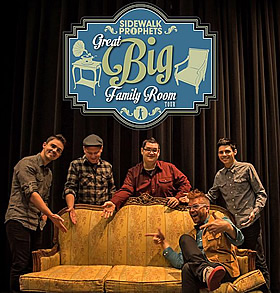 Nashville, TN – Halfway in to one of the most unique tours of 2015, Fervent Records and Dove Award winning artist, Sidewalk Prophets, has sold-out 14 of 18 shows on their current Great Big Family Room tour. The unconventional tour, which has covered 8,000 miles and made its way to 11 states has several components built in to the overall experience with the goal of connecting with fans and concert-goers as personally and authentically as possible.
"Our hope is that each person who comes to this tour leaves feeling like they are loved, that they have a purpose and that they are a vitally important part of our family," says lead vocalist Dave Frey.
"So far, we've personally greeted and ushered in 10,000 concert-goers and handed out over 10,000 bags of Groovy Pop Popcorn (groovypopcorn.com)," adds band member Ben McDonald.
In addition to greeting guests at the door, the band is also engaging with fans in a VIP Pizza Party, presented by NewReleaseTuesday.com.
"So far, the tour has been an intimate, yet raucous celebration," Dave continues. "I seriously haven't had as much fun on stage in my life. Interacting before the show with pizza party goers, inviting all into the family room and having a blast all night long, it feels like a get together with our closest friends."
That sentiment is being shared by concert-goers and critics alike.
Mary Farrell of New Lenox, Illinois was greeted at the door by the band. "It was a very nice touch," says Farrell, admitting she didn't even realize it was the band at first. "It's not something you're used to–seeing the band before the show."
In a concert review on ChicagoNow.com, Kris Pasquini writes,"I'm never sure what to expect from an acoustic show, but this one far surpassed my imagination. While I liked Sidewalk Prophets music before, I now feel like I better know the band and more of what they're about."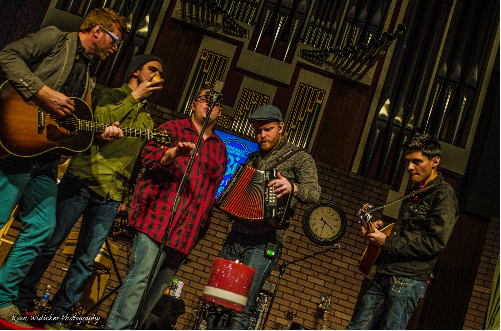 Sidewalk is not only interacting with the audience before and after the show; the concert itself is veritably a dialogue between the band and the audience. Between sharing new music from their forthcoming album (TBA) and discussing the work of the Mocha Club (themochaclub.org), a non-profit organization currently raising funds for the Congo, the band encourages the audience to engage in every aspect of the experience. Thus far, 350 concert-goers have joined Mocha Club to aid the effort.
Ticket prices begin at $10 with various add-ons available. Tickets are available online only or General Admission tickets may be purchased at the door on show days. Learn more and purchase tickets here: www.greatbigfamilyroomtour.com.
See current tour schedule below…
Great Big Family Room Tour
Schedule
Ticket information available at greatbigfamilyroomtour.com
March 20 Amarillo, TX
March 22 Winnsboro, TX
April 7 Albuquerque, NM
April 8 Phoenix, AZ
April 9 Las Vegas, NV
April 11 Santa Rosa, CA
April 12 Reno, NV
April 13 Acampo, CA
April 14 Bend, OR
April 15 North Bend, OR
April 16 Portland, OR
April 18 Littleton, CO
April 19 Cheyenne, WY
April 23 Macclenny, FL
April 25 Sarasota, FL
April 26 Destin, FL
April 28 Gulf Shores, AL