NASHVILLE , TN – Urban pop artist Shonlock has emerged onto the scene with his second no. 1 Billboard hit. The pop-infused "Beyond This World" topped the Christian/Hot AC chart. The single is off Shonlock's 2014 release A Night To Remember, which commemorates Shonlock's own journey to faith as well as exhorts fellow journeyers.
"Many times, us as believers, we tend to separate ourselves from society, which causes us to lose the effectiveness in the communities in which we are called to reach," Shonlock shares about the single, "I was just thinking about how timely this song is with the condition of America and the world today and how important it is for us to continue to let our light shine. I wrote this song to encourage us to get outside of ourselves, outside of our own world to reach and meet the needs of the people around us."
"Beyond This World" is part of the track listing from A Night To Remember, Shonlock's first album since leaving TobyMac's Diverse City to set out on his own as a solo artist. Collaborating with production talent Joshua Crosby (Owl City, Matt Kearney) and Solomon Olds (TobyMac, Family Force 5), a reflection of Shonlock's journey of opening up to "the greatest love there ever was" came to fruition. And while the songs on the album are intensely personal, A Night To Remember is also a journey many believers will identify with. "We all start somewhere. But we all eventually get to a point of saying, 'Okay, God. I'm tired. I can't do it on my own.' That is the heartbeat of the album…showing that we all go through the same highs and lows." Also from this album, the track "I Like To Win" was featured on ESPN's highlight reel for "March Madness" NCAA Final Four Basketball Championship.
Shonlock's goals for this album are clear: "Transformed" paints the picture of the metamorphoses that takes place when you allow the spirit of the Lord to come into your heart," he says. "Second Corinthians 5:17 says that once we come into Christ we are changed, we are new creatures. The transformation can't be taken lightly. We have to fight daily to maintain that change."
Shonlock will continue to fight for that change with new music in 2016, as well as in the fall tour, 'Small Town America', with Fireflight and Seventh Day Slumber. See below for dates.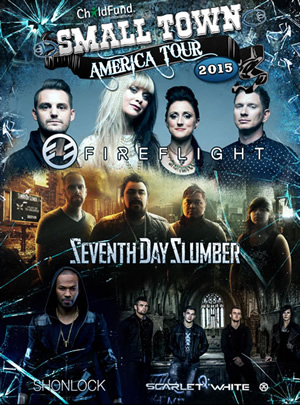 SMALL TOWN AMERICA TOUR 2015 Fall Schedule
Fireflight / Seventh Day Slumber /
Shonlock / Scarlet White
Aug. 22 Stigler, OK
Aug. 27 Snowflake, AZ
Aug. 28 Churchrock, NM
Aug. 29 Mesa, AZ
Aug. 30 Tempe, AZ
Sep. 2 Rio Rancho, NM
Sep. 4 Dallas, TX
Sep. 6 Granbury, TX
Sep. 12 Lufkin, TX
Sep. 17 Jasper, AL
Sep. 19 Vidalia, GA
Sep. 20 Lincolnton, NC
Sep. 30 Williamston, NC
Oct. 1 Mechanicsville, VA
Oct. 2 Wilmington, DE
Oct. 3 Brockton, MA
Oct. 4 Carlisle, PA
Oct. 10 Otsego, MI
Oct. 11 Lewis Center, OH
Oct. 14 Chadron, NE
Oct. 15 Hastings, NE
Oct. 16 Sioux Falls, SD
Oct. 17 Ames, IA
Oct. 18 Bettendorf, IA
Oct. 23 DeLand, FL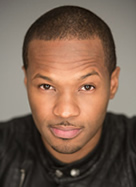 ABOUT SHONLOCK:
From the pinnacle of mainstream music, working with artists like Aaliyah and Arrested Development, to an altar of praise, Shonlock has painted the world a richer shade of love with his musical gifts and faith. After receiving an inspiring call from fellow Grammy-nominated revolutionaries GRITS, Shonlock's career flourished and also led to an entirely new perspective on life. Alongside that spiritual renewal came a chance to work with like-minded stars such as Nicole C. Mullen and The Katinas, eventually catching the eyes and ears of multi-platinum DC Talk singer turned solo star TobyMac, with whom he toured for twelve years before venturing out on his own.
MC/Singer/Songwriter/Producer Shonlock released his Sophomore album A Night To Remember in 2014 and has celebrated two No. 1 singles since then. Shonlock is already starting on his next project and is currently looking to structure a partnership with a new label for his 2016 release.
Connect with Shonlock Online
Website: http://www.shonlock.com/
Facebook: https://www.facebook.com/Shonlock
Twitter: https://twitter.com/shonlock
Instagram: https://instagram.com/shonlock