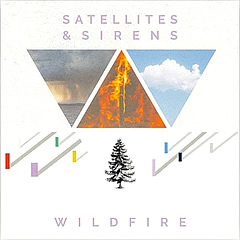 Los Angeles, CA — After a near perfect debut on Dream Records with their album One Noise, the guys in Satellites & Sirens have been busy writing and recording new songs for their upcoming yet-to-be-titled album set to debut in March, 2016.  However, as a teaser of what's to come, the group decided to release one track from their sessions titled, "Wildfire".  As the weather gets colder and colder, this electronic gem will surely warm the hearts of it's fans and new fans to come.

"We are excited about "Wildfire" and the direction of the new record. "Wildfire" is more than just a song to us but an idea that we are the change we want to see in the world, and a call to action to believers to live the same Love that changed our lives. " – Geoff Hunker, lead singer of Satellites & Sirens.

To listen to the track check it out below.  You can download the track on iTunes by texting "Wildfire" to 51555.

ABOUT SATELLITES & SIRENS:
Nashville, TN based, Satellites & Sirens are no where near to slowing down. In March 2014, they released a new album titled One Noise, a testament to their passion for innovation, love for God and worship. Their latest release perfectly blends their synth, rock, and pop influences into a 12 song album sure to please current fans and brand new fans alike.