Sara Groves' Floodplain Stuns Critics
Thought-provoking songstress launches "Girl In The World" video series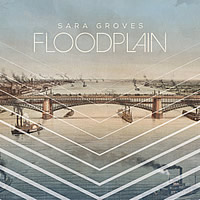 Nashville, Tenn. – Floodplain, the newest album from Sara Groves is debuting to critical celebration with reviews even noting it as "one of the top albums of the year." The November 6 release on FairTrade Services marks Groves honestly contemplating want and provision, personal struggles and empathy.
Girl In The World is a newly-launched, Groves generated mini series focused on meaningful topics like pragmatism, utility, beauty and the metaphorical Mississippi River. "Historically, when Troy has tried to get me to make videos, I have been resistant. I guess I always think I have more urgent things to do," shares Groves. "So instead of waiting for me to sit down with a camera crew, hair and make-up, the camera crew is just coming along with me in my regular life, running errands, talking in the car, having conversations with a 'Girl in the World.' You have heard of comedians in cars getting coffee, this is going to be more like songwriters in station wagons running errands around town." Groves even delves into the meaning of Floodplain in the above video.
About Sara Groves:
Sara Groves is a mom, wife, singer/songwriter and recording artist with a passion for justice and a heart of mercy. She has joined forces with International Justice Mission to advocate for victims of human trafficking for the past 10 years. Groves, her husband Troy, and their three children (Kirby, Toby & Ruby) reside in St. Paul, Minn. where they cultivate an artist support community out of a 100 year-old church called Art House North. Floodplain marks her ninth anticipated release with FairTrade Services.