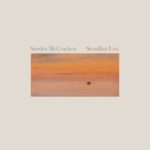 Singer, worship leader, record producer and modern-day hymn writer Sandra McCracken, whose soulful, folk-gospel sound carries influences of artists like Emmylou Harris and Norah Jones, is set to self-release her 12th independent album, Steadfast Live, Aug. 25, 2017. The new, 17-track CD/DVD was recorded live this spring at Nashville's Art House in a living room full of friends and family, and features McCracken and her band along with special guests All Sons & Daughters and Liz Vice.
Produced by McCracken, directed by rising television and film editor Zach Prichard (Brad Paisley, National Geographic, ESPN) and including over 70 minutes of content, the Steadfast Live album and concert documentary includes dynamic musical arrangements of favorites from McCracken's Psalms (2015—buy) and God's Highway (2016—buy) recordings alongside five new songs and hymns, stories behind the songs and scripture readings.
"In the last few years, there has been such a stirring and a change in my process as a songwriter," shares McCracken, setting the tone for the new recording. "It becomes less about my own feelings and more about experiencing God's presence, and wanting to make space for other people to experience God's presence. And so, the songs are coming more like gospel songs these days.
"There's so much more of an exchange of energy, love and community that happens when we sing together," continues McCracken. "Gospel songs do that, they pull us up out of the moment we're in and they promise that the morning is coming."
About Sandra McCracken | Sandra McCracken's prolific contributions as a songwriter, modern-day hymn writer and record producer has brought grace and clarity to her soulful, folk-gospel sound. Whether in a theater or in a chapel, she is a dynamic performer who blurs the lines of what church music sounds like, captivating and inviting audiences to sing along. While many of her songs like "We Will Feast In The House Of Zion" and "Thy Mercy My God" have settled into regular rotation in Christian worship services internationally, she has also had songs recorded by All Sons & Daughters, ABC's Grey's Anatomy, Audrey Assad, BiFrost Arts, Caedmon's Call and others. She is further a founding member of Indelible Grace Music and Rain For Roots (children's music) and has been a guest writer for Art House America, She Reads Truth, The Gospel Coalition, Christianity Today, RELEVANT Magazine and more.