Title track, first single "Steadfast" both available now with pre-order—McCracken to join All Sons & Daughters for fall tour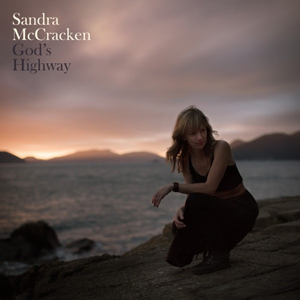 Singer, worship leader, record producer and modern-day hymn writer Sandra McCracken, whose soulful, folk-gospel sound carries influences of artists like Emmylou Harris and Nora Jones, is set to release her eleventh independent studio album, God's Highway, on Towhee Records with Tone Tree Music distribution.
While Sandra McCracken's most recent and critically acclaimed Psalms album (2015—buy) has served as a healing balm to audiences globally, sharing an honest conversation about suffering and faith, God's Highway moves the conversation ahead with 11 new songs inspired by sacred Biblical poetry. A collection of prayer songs, the album reminds listeners that the circumstances of their lives can be both broken and beautiful, and that they can take great hope in a God who is with them even still.
"We are singing ourselves forward," declares McCracken. "We are singing ourselves out of the shadows. The voices of the saints who have walked this path before us are in our ears and in our memories. And the shepherd's voice is ever before and behind us, clear and beautiful—altogether trustworthy."
For McCracken, who spent her childhood harmonizing in the church choir, accompanying groups on the piano, singing solos during the offertory and writing new hymns for her congregation to sing, and who now serves as worship minister for a small, Anglican church plant, God's Highway feels like a 'coming home' to her heart for the church.
"When I wrote and recorded the Psalms album, it was like walking through a doorway into a new landscape," says McCracken. "After many fulfilling years as an independent singer and songwriter, writing songs about my experiences and relationships, God began to recalibrate my heart more specifically toward writing songs for people to sing together."
This intentional, communal aspect of God's Highway is being encouraged through free song sheets and chord charts for the album that will be available from www.SandraMcCracken.com when the album releases. McCracken will also travel coast-to-coast sharing the new songs while on tour with All Sons & Daughters this fall.
McCracken was also joined by All Sons & Daughters' Leslie Jordan, as well as Joshua Silverberg, to write "Steadfast," the first single and video from God's Highway that is available now with a pre-order of the album on iTunes. The song calls attention to the faithfulness of God.
"It's the Tom Petty-language of basically saying, 'I won't back down.' It's God's defiance against all that is broken and His ultimate victory over those things," says McCracken. "And the way He accomplishes that is by His own steadfast, unrelenting, pursuing love. So I am staking everything on that and it gives me confidence to sing it even on the days that I'm not so sure how I feel."
The album also features the song "Love Will Bring You Home," which highlights a believer's ultimate destiny, while the title track, written with Thad Cockrell and available with pre-order now, was sparked by a painful day in McCracken's life. "In the pain, there was triumph and strength coming up around my heart, too. God's strength was tangibly becoming my support…I know now how much I was being carried. I hope this song goes on with God's Spirit, to carry others as well."
The full Sandra McCracken, God's Highway track listing follows:
01) Steadfast
02) God's Highway
03) Call Him Good (Psalm 104)
04) Trinity Song (Feat. All Sons & Daughters)
05) Love Will Bring You Home
06) The Lord's Prayer
07) He Walks With Me (1 Peter)
08) Come Light Our Hearts
09) Be Still My Soul (Psalm 131)
10) Doxology (Jude 23-24)
11) Song For Rachel
"This is a record worth listening on repeat, and it's full of great songs for the church to sing together," says Mike Cosper, author and worship pastor at Sojourn Community Church in Louisville, KY." …Sandra has given us a wonderful gift."