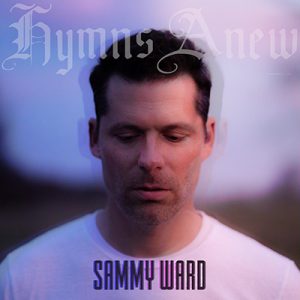 Nashville, TN (December 13, 2019)
Following a lengthy hiatus, veteran Christian music singer/songwriter Sammy Ward returns January 31 with a highly anticipated new recording, Hymns Anew. Produced by Nathan Nockels (Chris Tomlin, Keith & Kristyn Getty), the Vibraslap Records release features fresh takes on six beloved hymns, as well as the original title-track written by Ward.
Showcasing a stable of classics—all with newly penned passages thoughtfully underscoring each song's message—Hymns Anew opens with the bright, synth-pop "Blessedness (Leaning On The Everlasting Arms)" and is highlighted by the original title-cut. A reflective piano ballad gently petitioning a perennial freshness of faith that honors Christ, "Hymns Anew" was ultimately inspired by Ward's love of hymns and the timeless Truth they carry.
The project also includes the rhythmic, organ-driven "Wonder Working Power (There Is Power In The Blood)," which is now available on streaming platforms, as well as "Make Me Whole Again (Nothing But The Blood of Jesus)," "Wondrously Saved (Glory To His Name)," "The Source (Praise God From Whom All Blessings Flow)" and the contemplative "Perfect Plea (Oh How I Love Jesus)."
"I've grown up in the church singing hymns, and the words of these songs come to mind first—before any other type of music—to help encourage my faith," Ward shares. "Modernizing some of my favorite hymns is my effort to carry them on for generations to come. These songs are just too good to be forgotten, too strong to not be sung, and too worthy of our respect to not be heard."
North Georgia-native Sammy Ward first landed in the Christian music spotlight nearly two decades ago with his critically-acclaimed 40Records/Gotee debut, My Passion. After a season of full-time music ministry, Ward launched an entrepreneurial career, founding and managing a variety of tech startups. Despite this vocational shift, which Ward calls a "wild God-sized epiphany," songwriting and worship leading have continued to be a priority for him through the years. Ward and his wife, Angela, live in the Nashville area with their two daughters.
Visit: www.sammyward.com