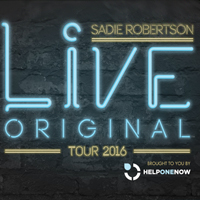 NASHVILLE, Tenn.—"Ultimately, we want to be your friend. We want to know your heart and we want y'all to know OUR heart. This [tour] is bringing us all together to share such a special night…and I think it's going to be awesome," shares New York Times best-selling author, television star, and American sweetheart Sadie Robertson this morning in her official tour promotional video via her YouTube page. The 19-year-old is in full-on planning mode as she prepares for her 17-city run on The Live Original Tour 2016, which kicks off on Sept. 22, 2016 in Dallas, TX. Along with launching a limited e-comm pre-sale of tour merchandise via Shopify this week, Robertson also recently returned from a mission trip to Uganda where the Live Original Tour posse met and learned from Help One Now's local leader Pastor Edward Magumba and his dedicated team who started His Mercy School to benefit orphans and children from extremely poor families in the Mayuge district in rural Uganda.
Alongside non-profit organization Help One Now, the title sponsor for Robertson's The Live Original Tour 2016, Robertson and her squad are extending the tour's reach to encompass humanitarian outreach by raising funds across their fall U.S. tour. The goal: to build a girls dormitory for His Mercy School in Mayuge, which will have room for 60 students—more than tripling the school's current housing capacity. Fans will also be invited each night of the tour to join an exclusive opportunity to impact 12 additional communities around the world with Help One Now.
"Help One Now is doing amazing work around the world, and I am so excited that we are teaming up with them to spread word of their efforts," Robertson pleas. "I encourage everyone to check out Live Original's page with Help One Now to learn more about our time in Uganda, and how you can help out with our fundraising campaign for His Mercy School, a safe place for these beautiful children to grow and learn. Every night of the tour we'll share a new, exclusive opportunity powered by Help One Now that will impact thousands of children's lives."
Sadie Robertson's "squad" appearing on The Live Original Tour 2016, produced by 25 Entertainment, consists of a few members of her family, including her brother John Luke and his wife Mary Kate Robertson, cousins Reed and Cole Robertson, Reed's fiancée Brighton Thompson and filmmaker Max Zoghbi and his wife Bonnie Kate, who hold a unique and inspirational tale of their faith through suffering as a victim of "The Dark Knight" shooting in Colorado in 2012. The close-knit group will share their hearts, taking attendees on a journey of inspirational messages, dramatic onstage performances, Q&As, and a few surprises. Musical guests on the tour include Christian rock group Family Force 5, husband and wife duo Love & The Outcome, and newly announced Reno.
A limited run of select merchandise for The Live Original Tour 2016 is available now via Shopify. "I am super excited about the merch that our sponsors and I put together," shares Robertson, "We worked really hard to put it all together. There is something in here for everyone and that was my purpose. I can't wait for everyone to see what we've got!"
Additional tour partners for The Live Original 2016 Tour are Wild Blue Denim, Glory Haus, I Am Not Ashamed, Rare, Roma Boots, and YouWood.
Learn more or donate to Live Original's current campaign for His Mercy School by CLICKING HERE. Tickets for The Live Original 2016 Tour are on sale now and can be purchased at LiveOriginal.com starting at $20. Fans can also purchase VIP Experience tickets to hang out with Sadie and the squad, brought to you by Wild Blue Denim.
Live Original 2016 Tour Dates:
Thursday, September 22: Dallas, TX, Allen Events Center
Friday, September 23: Oklahoma City, OK, Lloyd Nobel Center
Saturday, September 24: Kansas City, MO, The Music Hall
Sunday, September 25: Denver, CO, First Bank Center
Tuesday, September 27: Phoenix, AZ,  Grand Canyon Univ. Ctr
Wednesday, September 28: Albuquerque, NM, Santa Ana Star Center
Friday, September 30: Houston, TX, Berry Center
Saturday, October 1: San Antonio, TX, Freeman Coliseum
Sunday, October 2: Baton Rouge, LA, BR River Center
Thursday, October 6: New York City, NY, Westchester County Ctr
Friday, October 7: Cincinnati, OH, BB&T Arena
Saturday, October 8: Indianapolis, IN, Old National Center
Sunday, October 9: Chicago, IL, Rosemont Theater
Thursday, October 13: Charlotte, NC, Cabarrus Arena
Friday, October 14: Jacksonville, FL, Florida Theater
Saturday, October 15: Birmingham, AL, Alabama Theater
Sunday, October 16: Nashville, TN, Allen Arena
For more information, visit http://www.liveoriginal.com. And to learn more about the Robertsons, visit www.DuckCommander.com.