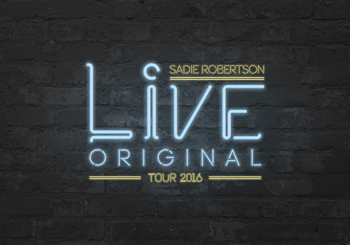 NASHVILLE, Tenn.—Sadie Robertson's ultimate goal is not only to inspire her peers, but to also inspire a nationwide movement encouraging her generation to live authentically and stay true to who they are. The A&E Duck Dynasty sweetheart and New York Times best-selling author announced via Facebook Live yesterday that she is taking her message on the road, along with a few family and friends, to tour through 17 cities starting on September 22. The Live Original Tour 2016 is a high-energy night packed full of dynamic messages from Sadie and friends, featuring special moments woven throughout the night to encourage and motivate attendees to Live Original. Throughout the three-hour event, Sadie's vision and message will be delivered in ways that keep the audience on an emotional journey on what it means to be yourself.  Produced by 25 Entertainment in conjunction with Sadie's passion and vision, this event is sure to change lives and equip people from all walks of life to Live Original.
"I am so excited to finally announce the Live Original Tour!" shares Sadie Robertson, "We have such a solid group. I know that it's going to be absolutely life changing, not just for those attending but also for all of us involved."
Joining Sadie for The Live Original 2016 Tour will be a few of her family members, including her brother John Luke and his wife Mary Kate Robertson, along with their cousins Reed and Cole Robertson. Completing Sadie's 'squad' will be Reed's fiancée Brighton Thompson and filmmaker Max Zoghbi and his wife Bonnie Kate, who hold a unique and inspirational tale of their faith through suffering as a victim of The Dark Knight shooting in Colorado in 2012. The close-knit group will share their hearts, taking attendees on a journey of inspirational messages, dramatic onstage performances, Q&As, and one surprise after another. The night also includes the award-winning rock group, Family Force 5, and worship led by husband and wife duo Love & The Outcome.
The squad announced their participation in the tour over their socials beginning at 5 p.m. CT yesterday afternoon, and ended with a special Q&A via Facebook Live with Sadie herself. "So excited to be taking #liveoriginal out on the road!" she posted to her followers, "I've talked so much about this and I couldn't be more honored to get to share my heart with you all."
Sadie Robertson hosted her first large-scale event last summer in Nashville, Tenn., where she delivered an inspirational three-hour performance alongside several family members and friends to a sold-out crowd of more than 4,000 people at Lipscomb University's Allen Arena.
"God has blown me away a lot of times in my life," she posted to her 2.2 million followers on Instagram after her Live Original event in Nashville, "But tonight He went above and beyond. I pray this is just the beginning of a movement for the people in this world to start living original!"
Live Original 2016 Tour dates:
Thursday, September 22: Dallas, TX, Allen Events Center
Friday, September 23: Oklahoma City, OK, Lloyd Nobel Center
Saturday, September 24: Kansas City, MO, The Music Hall
Sunday, September 25: Denver, CO, First Bank Center
Tuesday, September 27: Phoenix, AZ, Grand Canyon Univ. Ctr
Wednesday, September 28: Albuquerque, NM, Santa Ana Star Center
Friday, September 30: Houston, TX, Berry Center
Saturday, October 1: San Antonio, TX, Freeman Coliseium
Sunday, October 2: Baton Rouge, LA, BR River Center
Thursday, October 6: New York City, NY, Westchester County Ctr
Friday, October 7: Cincinnati, OH, BB&T Arena
Saturday, October 8: Indianapolis, IN, Old National Center
Sunday, October 9: Chicago, IL, Rosemont Theater
Thursday, October 13: Charlotte, NC, Cabarrus Arena
Friday, October 14: Jacksonville, FL, Florida Theater
Saturday, October 15: Birmingham, AL, Alabama Theater
Sunday, October 16: Nashville, TN,  Allen Arena
Tickets for The Live Original 2016 Tour will go on sale to the public on Monday, May 9 at 10 a.m. CT. For more information, visit www.LiveOriginal.com. And to learn more about the Robertsons, visit www.DuckCommander.com.