Nashville, TN (November 2, 2018)
Multi-GRAMMY® and Dove Award-winning Russ Taff has released his debut praise and worship album, Believe, from Sweetwater Studios, a division of Sweetwater Sound, and with global distribution from The Fuel Music. His first new album in over seven years, the full-circle, 12-song project features new recordings of the hits for which Taff is best-loved, including his iconic "I Still Believe" which is available now as a single at all digital and streaming outlets.
Produced by Phil Naish and Mark Hornsby, Believe also features Taff singing "Don't Try So Hard" with multi-platinum, GRAMMY® winner Amy Grant, "I Am" with three-time GRAMMY® nominee David Crowder, "Isn't The Name" along with strings recorded at the legendary studio, Abbey Road, and his classic hit "We Will Stand." The album further features Taff's signature vocals on worship favorites like "Your Love Never Fails," "No Longer Slaves," "Be Still My Soul" and "Same Power."
"There was a day when I didn't think I'd ever be able to sing or record again," reveals Taff. "Grace from above, and from my wife Tori and friends coming alongside me, has breathed new life into my spirit. I'm so grateful for this season, and this new recording is my worshipful offering and heart's cry."
"This new project will be a heart-stirring reminder of why Russ became the legend he is," says Mark Hornsby. "Weathering personal storms, he remains one of the most powerful and endearing voices in music today, while sharing a clear, worshipful message of grace and hope for everyone, for any circumstance."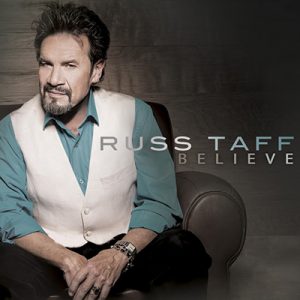 The full Believe track listing follows:
1. Your Love Never Fails
2. I Still Believe
3. Don't Try So Hard (with Amy Grant)
4. Same Power
5. I Am (with David Crowder)
6. Be Still My Soul
7. No Longer Slaves
8. When I Hear Your Name
9. There Is A Fountain
10. There's A Hallelujah
11. Isn't The Name
12. We Will Stand
Releasing three days prior to his new album, the feature-length "Russ Taff: I Still Believe" documentary is in theaters nationally for one-night only Oct. 30. The film chronicles his musical journey and behind-the-scenes battle with alcoholism, the childhood trauma he suffered at the hands of an alcoholic father and abusive mother, the undying, 42-year love story with his wife Tori, and his ultimate embrace of God's healing and restoration.
Featuring such legendary artists and entertainers as Amy Grant, Michael W. Smith, MercyMe's Bart Millard, Newsboys' Michael Tait, Bill Gaither, Mark Lowry and Chonda Pierce, theater audiences will also have the opportunity to view a special acoustic performance by Taff and multi-GRAMMY® Award-winning Steven Curtis Chapman immediately following the film.
Tickets for "Russ Taff: I Still Believe" can be purchased at FathomEvents.com and participating theater box offices.
For more Russ Taff, Believe album and documentary news, go to www.russtaff.com.