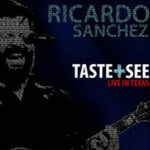 Difference Media recording artist and acclaimed worship leader Ricardo Sanchez is set to return August 18, 2017 with Taste + See, the GRAMMY®-nominated, Dove Award-winning singer-songwriter's first project in nearly two years. Recorded live at San Antonio's Cornerstone Church earlier this month, Sanchez wrote or co-penned all of the album's 10 tracks, co-producing the set with Louie Higuera.
Featuring Sanchez's signature Latin and Caribbean grooves alongside jazz and funk influences, the project is highlighted by such high-energy moments of praise as "Greater, Greater," "You Are," and the melodic title-cut. Dove Award-winning powerhouse vocalist Blanca joins Sanchez for the modern hymn "The Bridge" and the Salsa-infused "Tu Gracia," while captivating moments of surrender—"Faithful," "My Victory" and fan favorite "Relentless"—round-out the recording.
"Before we even stepped foot on the stage to record, I've felt God's hand all over this project," says Sanchez. "From writing with close friends to leading the live event with some of the best musicians I know, creating Taste + See has been an extraordinary process. I can't wait for people to hear this album and know the heart behind the music. These songs have been ministering to me from the beginning."
Ricardo Sanchez has helped pen some of the most influential songs in modern worship, including "Power of the Cross," "I Call Your Name," "Great God," and the Dove Award-winning "The Power of One." His musical signature, "It's Not Over (When God Is in It)," was recorded by Israel & New Breed and inspired Sanchez's 2012 book, It's Not Over: How To Keep Moving Forward When You Feel You're Losing The Fight (buy). He earned a 2010 GRAMMY® nomination for Best Gospel Song as co-writer of "Every Prayer," and Sanchez's 2015 Difference Media debut, Grand Symphony (buy), received the inaugural Album of the Year – Gospel trophy at last year's Tejano Music Awards. Sanchez is also a renowned mentor and teacher on worship. His popular Windows 2 Worship seminars offer coaching and consultation to worship leaders around the world.
Difference Media is a division of John Hagee Ministries, founded by John Hagee. Along with Sanchez, the San Antonio-based label features some of the leading names in Gospel music, including Ivan Parker, Canton Junction, Matt Hagee, Tim Duncan, Aaron & Amanda Crabb, The Cornerstone Sanctuary Choir, John Hagee and The Hagees. For further information, visit RicardoMusic.com