Franklin, TN (March 27, 2020)
Provident Label Group is proud to announce the release of Rhett Walker's latest album. Titled Good to Me, the ten-song project is now available and features the top 5 radio hit "Believer," Walker's most successful radio single of his career.
Good to Me was produced by Paul Moak, Solomon Olds, Jeff Pardo, Bryan Fowler, Jason Ingram, and Seth Mosley/X O'Connor. Walker recently shared about his third studio project, which centers around its title track, "In every season, through every up and down, in my journey God has never changed. He has always been good, and this album is a collection of songs that point to that. With songs like 'Say So,' which is an anthem where we come together, all saints and sinners, and sing Hallelujah, we're not who we once were, to 'Believer,' a song about who we are in Jesus and we have been set free and redeemed, I wanted to make a record that points to who Jesus is to me, who I am because of Him and the journey I've been on with Jesus." There is no question that Walker's vulnerability and authenticity throughout the new album highlight his evolution as an artist and a songwriter.
"Believer," which has already surpassed Walker's previous radio and award-winning hits "Come To The River" and "When Mercy Found Me," kicks off the album and is quickly becoming one of the signature songs of his career. Good to Me also includes a Down South Mix of Walker's 2019 single "Say Hello," as well as fan favorites "Peace in the Family" and "Like Your Father Does." The next radio single, slated to hit stations in May, is the title track and will be accompanied by a new music video.
Walker will begin sharing his new songs live when tours will be heading back out on the road. In the meantime, he is holding a daily Instagram live stream from his home aptly titled QuaranTime With Rhett. Featuring some of his dearest friends and fellow musicians such as Cory Asbury, Austin French, and more, be sure to check it out every day at 4pm ET by visiting his Insta page.
For all of the latest information, visit RhettWalker.com and his social links below.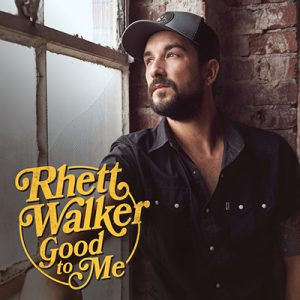 Good To Me Track listing:
"Believer"
"You Met Me There"
"Peace in the Family"
"Good to Me"
"Say So"
"Heavenly Home"
"Mercy"
"Like Your Father Does"
"Murderer"
"Say Hello (Down South Mix)"