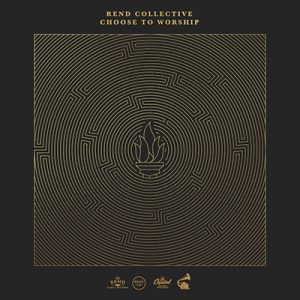 Nashville, TN (March 27, 2020)
Rend Collective's highly anticipated new album, Choose to Worship is available everywhere, digitally and physically now. Their seventh studio project, largely written on the road over an average of 120 tour dates a year, features 13 tracks including an acoustic version of their latest hit single, "Your Name Is Power" which continues to climb, reaching No. 7 on the Christian Airplay Chart, making it their second highest charting career radio single.
Following Choose to Worship's pre -order launch on February 28, the band surprised fans with the release of a special St. Patrick's Day live video performance of the new song "Rend the Heavens" filmed on the streets of Dublin.
Talking about their decision for timely cover art, unaware of the coming COVD-19 pandemic, the band said, "We used a labyrinth as our album art concept to reflect the confusing, messiness of life. So many twists and turns, so many little micro decisions, so much uncertainty and doubt, so much fear. In the middle of all this it can be so easy to forget to make the one choice that ultimately makes all the others insignificant: to love God with all our heart, soul, mind and strength."
In light of COVD-19 leaving much of the world home-bound, Rend Collective has been posting what have become very popular livestream performances on their social platforms over the past week, aptly titled The Socially Distant Worship Club.
During these livestreams, the band has been performing the unreleased title track "I Choose to Worship," which has resonated greatly and created a significant amount of buzz from fans, therefore encouraging the band to offer the lyrics and sheet music to their website free of charge. Due to the response they received from the live streams, the band spontaneously released a live performance video of title track "I Choose to Worship" yesterday as well.
"Social distance is good for our health and the health of others," they said. "We believe in it and support it. But it's not really good for our souls. So we'd love to hang out, have some worship times together and offer a few wee words of encouragement and truth into this mess we're all in. We'd love it if you would grab yourself a wee cup of tea and a biscuit and join us – we're all stuck in the house anyway so we might as well do something constructive and life-giving. Let's choose to worship together. We plan to do this regularly over the coming days and weeks until this blows over so keep a wee eye out." All videos are archived and available on Rend Collective's YouTube, IGTV and Facebook.