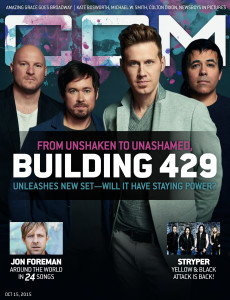 Check out the October 15, 2015 edition of CCM Magazine! Kicking off the Fall season, we feature Building 429 as our cover story. Combining Music with lyric is nothing new for Jason Roy and his Fayetteville, NC band mates, however, with the release of their latest album Unashamed, they just might have found something more.
Pics you won't see anywhere else!
Also in this issue, we feature exclusive pics of Colton Dixon, Michael W. Smith w/Kate Bosworth, Manafest, Newsboys + more!
Around The World In Twenty-Four Songs
Switchfoot front man Jon Foreman goes behind the music and reveals rhymes and reasons behind his The Wonderlands EPs.
All In The Family
The classically-trained Annie Moses Band is all grown up and reimagining the musical landscape of American history. Former CCM Magazine editor Lindsay Williams talks with front woman Annie Wolaver Dupree in this featured interview.
Hymns On Broadway
Former atheist and amateur musician/writer Christopher Smith pens drama on the life of John Newton. Story by Rebekah Bell with photos from Joan Marcus.
Music reviews:
Stryper, Jon Foreman, Manafest, Carrollton, Amanda Cook, Gateway Worship, XXI, Jim Sonefeld