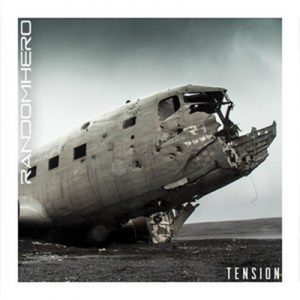 Nashville, TN (July 17, 2019)
Christian rockers Random Hero are set to drop Tension, their highly anticipated RockFest Records debut album, August 23. Produced by Memphis May Fire's Kellen McGregor, Tension is the band's most melodic, hook-laden release to date, providing a musical foundation squarely focused on elevating Random Hero's urgent message of hope and healing.
Featuring 10 songs written by Random Hero, including six co-penned with McGregor and four tracks co-written by Disciple's Josiah Prince, the project's title-cut and forthcoming debut single serves as the album's thematic cornerstone. "Tension," a deeply personal song chronicling a season of change and growth for the band, offers encouragement for listeners navigating life's unavoidable obstacles.
"Our goal is to always shine the hope He's given us, even in our roughest moments," Random Hero frontman Aaron Watkins says of the project. "Know that it's ok to feel hurt, pain and tension, but it's also ok to heal and let go. I really want people to walk away with a sense of hope and empowerment. If we can do it, you can do it too."
Further highlights of Tension include the explosive album opener "Weight Of The World," a cautionary tale of the pitfalls of taking on too much responsibility alone, and the equally hard-driving "Public Enemy," which touts the virtues of a countercultural life—doing the right thing no matter the consequence. Additionally, the cinematic "White Flag" is a soaring anthem of absolute submission to God, drawing Tension to a fitting close.
Showcasing the softer side of Random Hero is "So Close," a love song from the band to their wives, as well as the reflective "Outgrown." Written from the group's perspective as fathers, the latter track ultimately explores the greater picture of God's heart for His children.
Nashville Label Group and its RockFest Records imprint are helmed by Joseph Rojas, Seventh Day Slumber founder and frontman and creator of the City RockFest Tour and Summer RockFest Tour. In addition to Random Hero, RockFest Records is home to Billboard hitmakers Fireflight, Seventh Day Slumber, The Protest and Zahna, as well as The Persuaded, Amongst the Giants and Silversyde. RockFest Records is distributed by New Day Christian Distributors, with digital distribution by Capitol Christian Music Group.
Tension will be available for preorder beginning August 2 with instant grat tracks "Tension" and "Desperate Measures."
Visit: www.randomheromusic.com