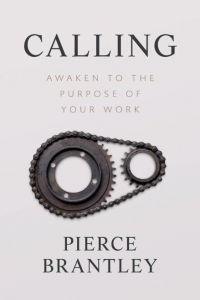 Nashville, TN (February 18, 2020)
Author, entrepreneur, speaker and successful businessman Pierce Brantley is set to release Calling: Awaken to the Purpose of Your Work, May 1, 2020, from David C Cook. In his new book, Brantley shares a transformative guide with actionable steps to inspire men to redefine the unique purpose of their work and discover what it means to have a fulfilling, "called" career.
Inviting readers who long for a higher purpose but have settled for a job, Calling is meant to help men discover the real work God has destined for them. With relatable stories, friendly encouragement and straightforward instruction, Calling provides men who work full-time and are anxious to connect their faith to their work with an "on-the-job training" for finding fulfillment and purpose in any vocation.
"Men were designed for this partnership, and once they embrace it, they will be awakened to the true purpose of their work—not just a career but a calling," says Brantley.
"Everyone longs for purpose, even with the responsibilities of bills to pay, a family to support, etc.," continues Brantley. "But what if you could find your calling inside your current job? Living out one's calling moves you beyond 'just a job' into the joy of serving with eternal purpose."
In Calling's 12 chapters, each ending with a daily prayer, Brantley offers a step-by-step journey of how to integrate one's faith and profession to discover their calling, revealing to readers that they can find a meaningful connection with God in any work they do.
About Pierce Brantley:
Pierce Brantley is an author, speaker, entrepreneur and Christian businessman. He has successfully launched, run, and sold his own company, served as an executive for a top-ten PR firm in Dallas, and consulted with numerous Fortune 500 companies. Today he puts that same intense motivation into teaching men how to lead themselves and their families well. Pierce and his wife, Kristie, live in Dallas, TX.
Visit: https://piercebrantley.co