Nashville, TN (March 6, 2020)
Worship/Christian music artist Phil King has released his full-length label debut album, All Glory, on Gateway Music, home for the music artistry of Gateway Church. The album is available now at digital and streaming outlets globally, including Apple Music, iTunes, Spotify, YouTube Music, Google Music, Pandora, Deezer and more.
Produced by UPPERROOM's Matt Fish (Jeremy Riddle, Jason Upton, Leeland), the album was recorded live Nov. 8 at Christ for the Nations Institute in Dallas, a venue King knows well having served as a worship leader, written songs and recorded there many times before.
"It's an electric environment to record a live album," King says. "And we didn't re-record any songs at the end of the night. The flow of the album is very raw, very real and as it happened."
Along with the new album are companion videos that will release over the course of the next few months. The title track video, "All Glory," premiered this week, which follows the release of "Our Great God" and "Song of Redemption" videos which released last month.
Watch "Our Great God" Live:

Along with these videos, All Glory features Revelation 4 and 5-inspired songs like "Greater Realms of Glory" (co-written with Michael Farren), "Deliverance" (co-written with Ethan Hulse and David Moore and featuring guest vocals by Gateway's Lauren Mwonga), "Banner" (co-written with Oscar Gamboa and Cody Ray Lee and featuring guest vocals by UPPERROOM's Joel Figueroa) and more.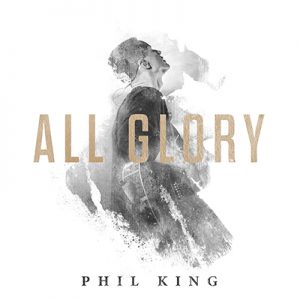 All Glory track listing:
01) Song of Redemption (Live)
02) Fill This House (Live)
03) All Glory (Live)
04) Deliverance (Live) (Feat. Lauren Mwonga)
05) Freedom In Your Hands (Live) (Spontaneous) (Feat. Lauren Mwonga)
06) So Worthy (Live) (Feat. Lauren Mwonga)
07) Our Great God (Live)
08) Banner (Live) (Feat. Joel Figueroa)
09) Here Is My Heart (Live)
10) Forevermore (Live) (Feat. Lauren Mwonga)
11) Greater Realms of Glory (Live)
Visit: https://philkingmusic.com