Nashville, Tenn — Owl City's fifth full-length album, Mobile Orchestra [Republic Records/Capitol CMG], is available today. You can get it HERE!
Celebrating the release, the multi-platinum, chart-dominating pop maven Owl City — also known as Adam Young—returns to NBC's The Today Show on Tuesday July 14. He will be joined by collaborators Hanson for the new track "Unbelievable," giving audiences everywhere the first official performance of the song. Watch the animated companion video HERE.
With Mobile Orchestra, Young dives deeper into his faith than ever before. "I definitely wanted to write in a way that pointed more directly to my faith and how important it is to me," Young said in a recent interview with Guideposts.org. "I wanted to write a couple of songs that were really vulnerable and honest. I just imagined if I was feeling really lonely or down in the dumps, what's the kind of song that I could really use?" Some examples on the album include "You're Not Alone (feat. Britt Nicole)," which hit No. 1 on the Christian Hot AC/CHR chart and "My Everything," which has a radio add date of July 31. Check out the "My Everything" music video, which recently debuted on Relevant.com.
"It's songs like those that I hope at the end of the day can serve as encouragement for those who feel spiritually weary or tired," Young told HearItFirst.com.
If you haven't seen Owl City yet, you'll get a chance to this fall. Owl City will be hitting the road on a U.S. headline tour with support from pop songstress Rozzi Crane. The trek begins October 5 at The Cannery in Nashville, TN, hits major cities everywhere and wraps on October 26 at House of Blues in Anaheim, CA. Fans will also have the opportunity to opt into special VIP upgrades. The full routing is included below, and tickets are available here.
Musically conceived everywhere from airports and hotels to tour buses, the album Mobile Orchestra, follows up 2012's Midsummer Station, which debuted Top 10 on the Billboard Top 200 and boasted the double-platinum duet with Carly Rae Jepsen, "Good Time." The new record also features standout collaborations with country star Jake Owen, "Back Home," pop luminaries Hanson, "Unbelievable," and more. Meanwhile, tracks like "My Everything" and "Bird with a Broken Wing" illuminate his progression as a songwriter with a balance between vibrancy and vulnerability.
Mobile Orchestra Tracklisting:
1. Verge (feat. Aloe Blacc)
2. I Found Love
3. Thunderstruck (feat. Sarah Russell)
4. My Everything
5. Unbelievable (feat. Hanson)
6. Bird With A Broken Wing
7. Back Home (feat. Jake Owen)
8. Can't Live Without You
9. You're Not Alone (feat. Britt Nicole)
10. This Isn't The End
"On The Verge" Fall Tour Dates:
10/5 Nashville, TN The Cannery
10/6 Atlanta, GA Center Stage
10/8 Philadelphia, PA The Trocadero Theatre
10/9 Washington, D.C. 9:30 Club
10/10 New York, NY Irving Plaza
10/12 Boston, MA Paradise Rock Club
10/13 Lancaster, PA Chameleon Club
10/15 Chicago, IL House of Blues
10/16 Milwaukee, WI The Rave II
10/17 Minneapolis, MN Varsity Theater
10/19 Englewood, CO Gothic Theatre
10/20 Salt Lake City, UT The Complex
10/22 Seattle, WA Neptune Theatre
10/24 San Francisco, CA Regency Ballroom
10/25 San Diego, CA Observatory North Park
10/26 Anaheim, CA House of Blues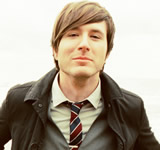 About Owl City
With humble small town beginnings in Owatonna, MN, Owl City remains an avant garde hitmaker in his own right. With total album sales over 2.5 million and single sales surpassing 18 million globally, his smash "Fireflies" from 2009's Ocean Eyes received a five-times RIAA platinum certification in addition to going No. 1 in 26 countries. "Good Time" featuring Carly Rae Jepsen went Top 4 in the U.S. and racked up sales of close to three million while "You're Not Alone (feat. Britt Nicole)" hit No. 1 on the Christian Hot AC/CHR chart. He composed the theme song for filmmaker Zack Snyder's Legend of the Guardians: The Owls of Ga'Hoole and an original tune for Disney's Academy Award winner Wreck-It Ralph, while Owl City's music has seen placements everywhere from The Croods and Veggietales to Smurfs 2. Owl City's fifth studio album, Mobile Orchestra is available now.
Get Connected With Owl City
Website: http://www.owlcitymusic.com/
Spotify: http://smarturl.it/OwlCityVergeSP
Facebook: https://www.facebook.com/owlcity
Twitter: https://twitter.com/owlcity
Instagram: https://instagram.com/owlcityofficial/