Nashville, TN (September 8, 2022)
Old Bear Records has announced the upcoming release (Nov. 4) of, The Songs of Rich Mullins — B E L L S B U R G, recorded live-to-tape in Rich Mullins' historic home in Bellsburg, Tennessee. The 18-track double album is releasing on the eve of the 25th anniversary of Rich's death. The project features notable artists Amy Grant, Andrew Peterson, Mitch McVicker, Jason Gray, Ashley Cleveland, and many others. The project will also feature two never-before-released Rich Mullins songs as well as a new recording of "Hard to Get" by Rich's brother David Mullins, and nephew Jonathan Mullins. There will also be documentary releasing in early 2023.
"It was in Rich Mullins' The Jesus Record demos where many of us first connected with Rich, not just as a Gospel music icon, but as a great American songwriter. The picture that those tapes painted was one of the barefooted Rich, squared off with a tape recorder in some old church somewhere, laying his music down song by song. It's an experience not unlike hearing the early recordings of a young Hank Williams, Woody Guthrie, or even Bob Dylan.
So in the spirit of those tapes, we have recorded these songs. An old cassette deck. A few takes. Inside Rich's old house. The sound of his living room alive and buzzing with a community of musicians singing and strumming over the moan of the house's aging wooden floors. Rediscovering the gentle simpleness of a few instruments and harmonies…really all a Rich Mullins song ever needed to be heard.
We hope you like what you hear. If Rich happens to be listening in, we hope this gives him a grin, too. We sure had a lot of fun creating in Bellsburg." —Andrew Greer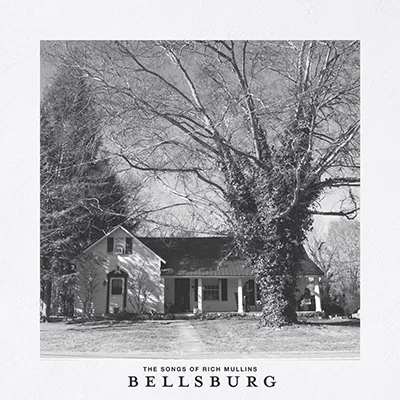 B E L L S B U R G — SIDE 1
1. Hello Old Friends (Andrew Peterson feat. Andy Gullahorn & Ben Shive)
2. You Did Not Have A Home (Kevin Max feat. Mitch McVicker)
3. Both Feet On The Ground (Ashley Cleveland)
4. Heaven Is Waiting (Brothers McClurg)
5. Sparrow Watcher (Amy Grant, Cindy Morgan & Andrew Greer feat. Tommy Sims)
6. If I Stand (Steve Cudworth)
7. I See You (Audrey Assad)
8. Sometimes By Step (Ian Zumback feat. Ron Block)
9. Hold Me Jesus (Sara Groves feat. Bonnie Keen & Andrew Greer)
10. Whitewater* (Rich Mullins—never released Rich Mullins song)
B E L L S B U R G — SIDE 2
1. Here In America (Jason Gray feat. Kipper Gray & Jimmy Abegg)
2. My Deliverer (Mitch McVicker)
3. Calling Out Your Name (Andrew Osenga & Taylor Leonhardt)
4. Bound To Come Some Trouble (Stephen McWhirter & Jason Clayborn)
5. Hard To Get (David Mullins feat. Jonathan Mullins)
6. Whitewater (Carolyn Arends)
7. We're Not As Strong As We Think We Are (Derek Webb)
8. Holy Pretenders* (Rich Mullins—never released Rich Mullins song)