NewSong is 'Faithful' with First Live Worship Set in 10 Years
NASHVILLE, Tenn. — A decade since the release of their first live worship recording, Rescue, GRAMMY®-nominated NewSong is set to follow the groundbreaking project with March 10's Faithful (Integrity Music/Provident Distribution). The highly-anticipated 13-song collection is produced by Nathan Nockels (Chris Tomlin, Passion) and was recorded live, in-the-round at the band's home church in suburban Atlanta.
The project is highlighted by the title-cut and debut single, an original co-penned by NewSong frontman Russ Lee and All Sons & Daughters' David Leonard and Leslie Jordan. "'Faithful' is a great opportunity for us to focus on the fact that we are alive only because God is faithful," Lee shares. "He has never wavered in His devotion to us, and He never will."
Faithful also offers NewSong's version of the Desperation Band-penned "Make A Way." "As soon as we heard 'Make A Way,' we knew it would go over because we've lived through that 'God, if you don't come through, there's no way' moment in each of our lives," says lead vocalist and multi-instrumentalist Matt Butler. "When Russ' wife battled cancer. When we almost lost my daughter at birth. These songs resonate because we've been there, and we know our audiences are struggling with the same kinds of things."
Additional NewSong writing collaborations on the album include the originals "Hallelujah (Bride In White)," co-written with Elias Dummer of The City Harmonic; "Keep Me Close," a soaring prayer of surrender co-penned by Matthew West; and "Angels," inspired by 1 Peter 1:12 and written by NewSong's Eddie Carswell and award-winning writer and producer Seth Mosley. Showcasing a diverse lineup of worship anthems and modern hymns, Faithful also features the album opener — an upbeat rendition of the "Doxology" — as well as a musical take on The Apostles' Creed with "This I Believe (The Creed)," and NewSong's arrangement of the timeless hymn "Rock of Ages."
The project is available as a CD or CD/DVD combo that features video selections filmed during the live recording at First Baptist Church in Woodstock, Georgia, as well as exclusive interviews with members of NewSong. A standard digital album and digital "deluxe" (featuring bonus videos) will also be available. Faithful can be pre-ordered beginning February 24, with advance purchasers receiving three free instant tracks.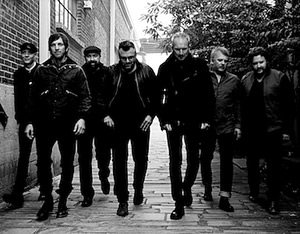 NewSong is currently performing selections from Faithful at 47 Winter Jam Tour Spectacular stops around the country. Created and hosted by the band, Winter Jam — which has already seen multiple sellouts to date this year — is headlined by GRAMMY® Award-winning rockers Skillet and features 10 of Christian music's top artists.
With a career spanning more than 30 years, 19 albums, 20 #1 Christian radio singles, a GRAMMY® Award-nomination and induction into the Georgia Music Hall of Fame, among numerous other achievements, NewSong is among the most respected artists and mentors in Christian music today. Their unparalleled ministry has been highlighted by such defining songs as "Arise, My Love," "The Christmas Shoes" and "Rescue," while the group's blockbuster Winter Jam Tour Spectacular has ranked as Pollstar's #1 first-quarter tour in the world for four consecutive years, providing a powerful platform for the Gospel in major arenas around the country since 1995.
For further information, visit:
newsongonline.com, or
Follow NewSong on Twitter @newsongonline.