Newsboys' Mega We Believe…God's Not Dead Tour resets for Spring 2016—Lineup To Feature Audio Adrenaline, Ryan Stevenson and OBB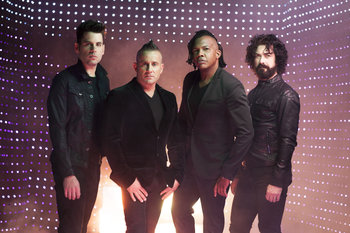 NASHVILLE, Tenn.—Following the blockbuster success of their We Believe…God's Not Dead 2015 Tour—which saw sellouts nearly each night—Platinum®-selling, GRAMMY®-nominated Newsboys are set to embark on the popular tour's final leg with a 20-city spring run next year. Sponsored by Feed the Children, the tour will feature GRAMMY@-winning Fair Trade Services recording artist Audio Adrenaline; GRAMMY®-nominated Gotee Records singer/songwriter Ryan Stevenson; and Dove-nominated Curb Records recording artist OBB.
Kicking off March 31 in Montgomery, Alabama, the We Believe…God's Not Dead 2016 Spring Tour will hit Toronto, Atlanta, Cleveland, Saginaw, Michigan; Rockford, Illinois; and Bethlehem, Pennsylvania, among other cities, before concluding May 2 in Austin, Texas.
Newsboys, who will return to the big screen for April's highly-anticipated Pure Flix release, God's Not Dead 2, will perform the film's theme song and the band's latest single, "Guilty," during the tour. In addition, the iconic group will showcase hits from their unparalleled career and forthcoming new studio recording.
"Duncan, Jody, Jeff and I are really at home on the stage, and we can't wait to hit the road again," said Newsboys front man Michael Tait. "Over the past year this tour has given us amazing opportunities to connect with our fans around the country. We're thrilled to get back out there and share new music along with the message of God's Not Dead 2."

Stay tuned to CCMmagazine.com for more info, tour dates, and breaking news regarding the We Believe…God's Not Dead Spring 2016 Tour.