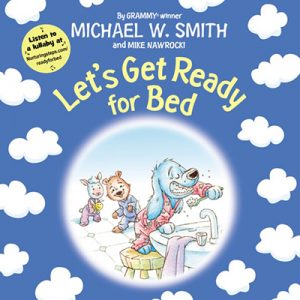 Nashville, TN (October 31, 2018)
Let's Get Ready for Bed is the second book from Nurturing Steps™, an infant and toddler series founded by multi-Platinum, three-time Grammy® Award winning artist and best-selling author Michael W. Smith. The book releases Nov. 6 from Zonderkidz™ and continues the series' simple mission to enliven a child's journey with hope and faith through music and storytelling.
Written by Smith and Mike Nawrocki, co-creator of VeggieTales and voice of Larry the Cucumber, Let's Get Ready for Bed takes children on a journey through Sleepy Puppy's bedtime routine. And when Sleepy Puppy turns out to be not-so-sleepy after all, his friends Eddie the bear and Lamby the sheep know just what to do to help him drift off to dreamland.
Featuring characters introduced in the NBC TODAY-lauded first book in the Nurturing Steps series, Nighty Night and Good Night, along with read-aloud rhymes and a cover that sparkles with glitter, Let's Get Ready for Bed also includes an exclusive link to a lullaby by Smith. The song is meant to further help lull young children to sleep.
Leading up to the release of the new book, Smith and Nawrocki will be featured during a LiveSigning, online book signing event Nov. 5 beginning at 8:00 pm ET / 5:00 pm PT. During the event, the authors will personally sign books, answer questions and take phone calls from viewers. Viewers can ask their questions, submit their phone number for a chance to receive a call from the authors and pre-order a limited, signed edition of Let's Get Ready for Bed now from Premiere Collectibles.
In addition to the new book, the Nurturing Steps Nighty Night and Good Night gift set is available now at retailers everywhere. The set includes the bedtime book Nighty Night and Good Night written by Smith and Nawrocki, a CD of lullabies by Smith appropriately entitled Lullaby, and a plush rattle shaped like Lamby the sheep.
"One of the greatest joys of my life is being a parent and a grandparent," says Smith, the father of five, who is called "G-Daddy" by his 14 grandkids. "I want to serve the next generation well. That's why I created Nurturing Steps, to provide stories and songs that will help shape the faith of our newest generation."
"I have wonderful memories of reading, singing and praying with my children before bed," says Nawrocki. "It can be a sacred time with our little ones, and I'm thrilled to be able to partner with Michael to create stories that parents and grandparents can use to help pass important values on to their children and grandchildren."
For all the latest Nurturing Steps news, go to www.nurturingsteps.com.