Nashville, Tenn. (April 23, 2015) – Michael W. Smith joined President Clinton, U.S. Secretary of Homeland Security Jeh Johnson and others in remembering victims of the Oklahoma City Bombing, and celebrating the "Oklahoma Standard" during Sunday's memorial service marking the 20th anniversary of the attack. The three-time GRAMMY® winner also received the prestigious 2015 Applause Award from the Nashville-based Belmont University's College of Visual and Performing Arts Program on Saturday, April 18.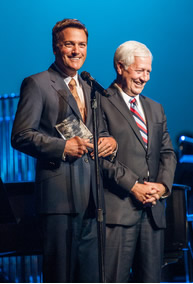 "It was such an honor to be with President Clinton, the other dignitaries and especially the good, strong people of Oklahoma on this significant date in their history. The strength and resolve of the people of Oklahoma City reminded me that God can take what was meant for evil and turn it to our good," shares Smith. "I am so proud of Belmont University. I'm proud to be a Trustee and I'm proud to recommend Belmont to so many kids that are looking for a great education. And to hear them perform my music — I have to admit to shedding a tear or two. It was a very emotional experience for me."
The Applause Award is the highest honor given by the Belmont College of Visual and Performing Arts. Past recipients include Chet Atkins, Vince Gill, Amy Grant, and Ricky Skaggs. Belmont performers honored Smith with variations of his songs, culminating in a rendition of 'River is Rising' performed by Smith, a 90 piece orchestra, an 18 piece jazz band, and over 300 accompaniment singers.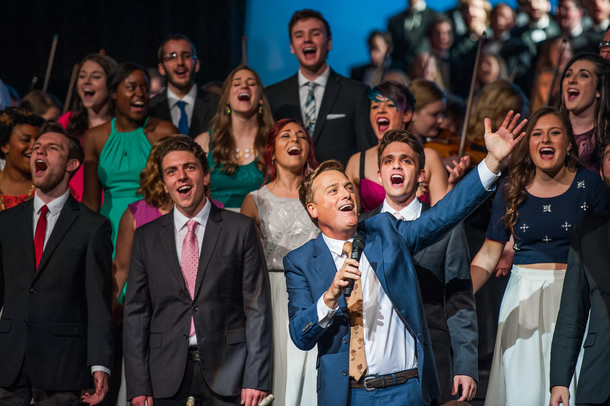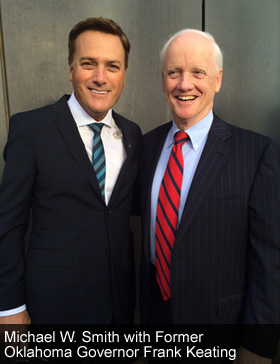 After the university event, Smith traveled directly to Oklahoma City where he joined former President Bill Clinton, former Governor Frank Keating, current Governor Mary Fallin, U.S. Secretary of Homeland Security Jeh Johnson and others.
After 168 seconds of silence to honor the 168 men, women and children who lost their lives in the attack, Smith sang the National Anthem as part of the somber memorial to honor the 20th anniversary of the tragedy.
Photo Credits: Belmont University
About
 Michael 
W. 
Smith:

Michael 
W.
 Smith 
is 
an 
acclaimed 
singer, 
songwriter, 
and 
musician who 
has 
sold 
more 
than 
15
million 
albums, 
achieved
 28 
No.
1
 songs, 
earned
 three 
GRAMMY® 
Awards, 
one 
American 
Music
 Award, 
and 
more 
than 
40 
Dove 
Awards. 
Most 
recently, 
in 
honor
 of 
ASCAP's 
100th 
Anniversary, 
Smith, 
along 
with 
Amy 
Grant, 
was
 honored
 as
 "a 
cornerstone 
of 
Christian 
music,"
for
 his
 groundbreaking 
career
 and
 significant
 influence 
on
 the
 genre.
 Also 
in
 2014,
 Smith 
was 
named
 'Philanthropist
 of
 the 
Year' 
by 
the
 Nashville
 Chapter 
of 
the 
Association 
of
 Fundraising Professionals
 (AFP)
 and
 honored 
by 
the 
Nashville 
Association 
of 
Talent 
Directors
 (NATD) 
for 
his 
impact 
on 
the 
Nashville 
entertainment
 industry.

 Throughout
 his 
career,
 the 
Contemporary
Christian
 Music 
artist 
has 
had
 the 
opportunity
 to
 sing
 for
 several
 Presidents
 and
 national 
leaders.
 He 
actively 
supports
 the
 teen
 club
 Rocketown, 
Compassion 
International, 
and
 Samaritan's
 Purse,
 the
 ministry 
headed 
by 
Franklin 
Graham. 
Michael
 and 
his
 wife
 Debbie
 live
 in 
Middle 
Tennessee,
 where 
they 
raised
 their 
five 
children.
 In
 2014,
 Smith 
released
 Hymns,
 his
first‐ever
 classic 
hymns
 album
 available 
exclusively 
at
 all 
Cracker
 Barrel
 Old 
Country
 Store®
 locations 
and 
CrackerBarrel.com, 
as
 well
 as 
his
 first 
studio 
worship
 album 
since
 2008, 
Sovereign,
 which 
took 
a 
Top 
10
 spot
 on 
the
 Billboard
 200,
 as
 well
 as 
the
 No.
1
 spot
 on
 Billboard's
 Christian
 Albums
 Chart.
 His
 fourth
 career 
Christmas
 album,
 Michael
 W.
 Smith 
&
Friends:
 The
 Spirit
 of
 Christmas,
 released 
during 
the 
fall
 of
 2014
 and
 received
 critical
 acclaim
from 
The 
New
 York 
Times, 
USA
 Today
 and 
more. 
Featuring
 Vince 
Gill, 
Lady
 Antebellum,
 Little
Big
 Town,
 Martina 
McBride, 
Amy
 Grant,
 Carrie 
Underwood, 
Jennifer
 Nettles, 
Bono 
and
Michael
 McDonald, 
the 
project
 was 
one 
of 
the
 top‐selling
 Christmas 
albums
 of
 the 
season.

Get Connected with Michael W. Smith:
Website // www.michaelwsmith.com
Facebook // www.facebook.com/michaelwsmithofficial
Twitter // www.twitter.com/michaelwsmith