Brentwood, TN/Buna, TX (April 1, 2020)
Fair Trade Services is excited to announce the newest release from Micah Tyler. His second full album project, titled New Today, is slated to release April 24.
Micah Tyler, who made his label debut with 2016's EP Different followed by an LP of the same name, quickly became known within the Christian music industry by both his vocal prowess and songwriting talents. With three No. 1 songs to date, he was a GMA Dove Awards Best New Artist nominee (2017) among other nominations, has won multiple songwriting awards, and has toured all across the U.S. Following the success of Different, it soon became time for Micah to create a new album and write the most authentic stories he could with the life experience he's had. Most of all, his desire was to create songs that would line up with God's word, but what he didn't count on was his whole world caving in.
It was fall of 2017 when Hurricane Harvey hit his hometown of Buna, Texas. With fifty inches of rain in just two days, Micah and his wife and children had to rebuild four rooms in their home from all of the damage. He says, "At the time, we thought that would be the biggest trial we'd ever have to go through."
But it was a few weeks after the devastating hurricane when Micah's younger brother, who is a youth pastor in Buna, was diagnosed with stage four colon cancer. "Those two things happening back-to-back made for a roller coaster of emotions, and there I was trying to write a record in the middle of all of it," he shares. "There were times I was walking into writing sessions knowing the song I wrote could be playing in victory over my brother's cancer or playing at a funeral in victory over his cancer in glory. I tried to be very present and honest in that." In fact, the album's title track came to fruition during that unknown time.
The upbeat "AMEN," New Today's first radio single, was written on the other side of his brother's diagnosis, singing of the news that he'd beaten cancer. Another joyful song on the album, "Walking Free," was co-written with Matthew West and AJ Prius and is about believing God can walk you into freedom no matter what situation you're facing.
For Micah Tyler, the eleven songs on New Today are an all-encompassing representation of his family, his story, the trials he's personally faced and how he's found God through it all. He says, "I love this album so much because not only are we telling good stories and representing the Gospel, but it's so heavily influenced by music I've grown up listening to, everything from Elvis to Shane & Shane to Ray Charles and Boyz II Men. I wanted these songs to melodically convey all the different emotions so you could really feel what we're saying."
He happily concludes, "If you want a glimpse of what my life's been like the last three years, it will take you about 53 minutes of listening to this album."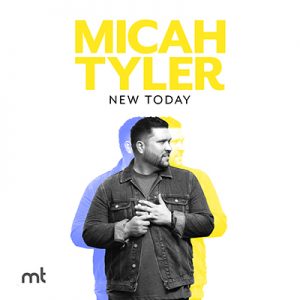 New Today track listing:
AMEN
New Today
Walking Free
By Name
Love Lifted Me
What Mercy Did For Me
Life Up Ahead
My God Fights For Me
Without Love
Welcome To The Family
New Today (Stripped)